Book a Tool Demo
Book it now
Get hands-on with the tools. Test before you invest. It's totally free AND we come to you.
Local Premium Cordless Dealer
Find out now
Find your nearest dealer.
Upcoming events
June 2022
30
Thursday
7am-4:30pm
August 2022
4
Thursday
4pm-7pm
---
Amazing quality and perfect cuts
It all starts when you open the Systainer, the smell of quality embraces over you as you pull the saw out and feel it fit perfectly into ones hands, you play with all the functions and settings which is all so easy to adjust. You gently slide it onto the track, careful not to scratch anything, you pull the trigger and it fires up for that first time. The smell of a brand new tool overwhelms you and it starts slicing through the material with no effort, powerful enough that it doesn't even know it's cutting. Once finished running through the material it stops and you realise how much you like the saw, then you turn around and feel how smooth the cut is, and the perfection of its cut. At that very moment, I realised that I no longer liked the saw but now, I'm in love with it. Amazing quality Festool keep it up.
Makes the job so much easier
The hkc55 is an excellent piece of equipment that has sped up my work process due to its efficient and easy use. I love how portable it is and that you can use it in places where it would be impossible to set up a mitre saw.
Strong but extremely smooth
It's been a long time coming but it was worth the wait. I've been slowly transitioning to the Festool 18v range. Over the years i've had my entire toolbox fitted out with Makita, Dewalt, Milwaukee and Bosch and all have had their good cordless tools and bad. I've been extremely happy using every tool Festool has released and they haven't disappointed with the impact driver. It's as strong as the Japanese makitas but you definitely know you have Festool design in your hands with smooth operation. Well done Festool, once again you have delivered a solid leader.
Plenty of power
Goes harder than any other cordless multi I've used, star fix is quick and easy. Only draw back is handle grip is big, variable speed on the trigger would be a good feature. Overall happy with purchase
Plunge saw
Festool rail saws are always the bench mark. Happy as with my investment. Use it all the time. Being a battery tool it is so easy to use. Love it. The boys are always borrowing it.
❮
❯
---
Festool Cordless Platform Key Benefits
Built to last. Festool = quality.
When other options break down or fail, your Festool cordless tools will still be going strong. How? Festool's rigorous testing process, high design standards, and over 90 years' experience pioneering high performing tools. This means you get better results, longer uninterrupted working, and far lower tool-replacement costs.
High-tech brushless motors
The ever-dependable EC-TEC brushless motor generates a huge amount of power while hardly consuming any energy. Paired with smart electronics that automatically adjust and match tool speed to the working material, you get top-notch results while saving on battery juice.
Engineered for the toughest jobs
Yes, the cordless tools are high quality, but that doesn't make them 'soft'. In fact, it's quite the opposite. The smarter the design and technology, the more robust the tool is. Festool demands each and every tool pass through extensive, bruising product testing before they're released to the market, you so you can be 100% sure they're up to the task and can cop a few knocks along the way.
Dust-free working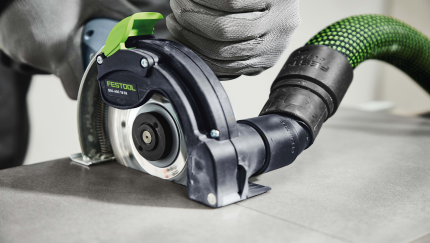 Dust extraction is at the core of the Festool System and the cordless range is no exception. Harness Bluetooth® batteries to connect cordless tools to an extractor, so the tool and extractor fire-up at exactly the same time. Having the extractor running briefly either side of your cutting/grinding means you're fully protected from harmful dust exposure.
Bluetooth® convenience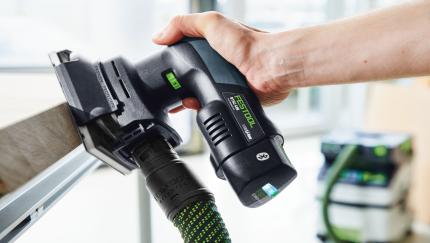 Festool tools make work easy. The innovative Bluetooth® system makes it easier again! Our Bluetooth® batteries offer the unique feature of 'following the tool', so you pair the battery and extractor once and then can move the battery between tools without needing to re-connect.
The system maximises results
Just like a burger is better with chips and a drink, Festool tools are better with accessories and a dust extractor. Our cordless tools are available with a massive range of accessories perfectly designed for specific jobs of yours. Throw an extractor into the mix that cleans as you work and protects your lungs, and you've got a fully optimised setup that lets you work faster, easier and better. And guess what? That'll save you time and money in the long run.
How Festool Bluetooth Works
---
Festool Battery Platform
3 Year Warranty
Finally, some terms and conditions where batteries and chargers ARE included! It's unique to have batteries/chargers covered under any warranty, let alone a 3-year warranty, but that's exactly what Festool offers. Each and every type of Festool battery and charger, fully covered for 3 years. This is part of our top-class service offering, and means you have one less thing to worry about. That's cordless you can count on.
High performance battery pack
Within the range is the Li-HighPower Compact 4.0 Ah battery pack that makes your work truly effortless. At just 600g, it's 20% lighter and 50% more compact than a 5.2 Ah battery pack – saving on weight, but not on performance. It is suitable for most 18V tools, where the focus is on compactness and ease.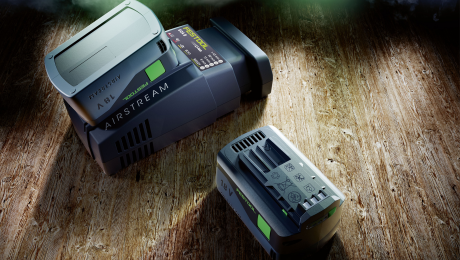 AIRSTREAM & Bluetooth technology
Exclusive to Festool, AIRSTREAM technology is a ventilation system built into the batteries and chargers that funnels cool air around all internal elements. This keeps everything much cooler, which gives you faster charging and longer battery life. Festool has a selection of Bluetooth® batteries that let you pair the tool to a dust extractor and operate it automatically. Uniquely, Festool Bluetooth® batteries only need to be paired once and then can be used on multiple tools. These batteries are suitable for all Festool 18V tools (except CXS, TXS, ETSC 125, RTSC 400, DTSC 400).
---
Shop By
Shopping Options
Category