C 18V Cordless 2 Speed Drill Basic in Systainer
Handy, durable and powerful
Features
Enjoy full flexibility when drilling and screwdriving: the completely electronic torque adjustment, CENTROTEC quick-change system, as well as angle attachment, eccentric attachment and depth stop can handle any drilling or screwdriving task. The combination of the Li-HighPower battery pack and maintenance-free brushless EC-TEC motor means that the C 18 cordless drill is light, long-lasting and durable. The cordless screwdriver and battery pack are completely covered with the Festool SERVICE, giving you peace of mind for your day-to-day work. Available in unique C-design or – depending on personal preference – in T-design as the T 18+3.
The Centrotec chuck is compatible only with Festool Accessories. This combination reduces the length and weight of the drill and allows fast change over.

Main Applications
Furniture assembly and kitchen fitting
Carpentry/Joinery and interior fitting
Trade fair/Metal construction and shopfitting
Painting and interior decorating
Bodyshops and paintshops
Industrial use, fastening in series production
Fences, pergolas, carports, canopies and studwork
Production of wooden substructures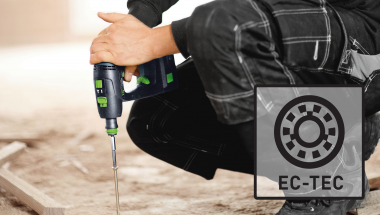 Intelligent motor management
The brushless EC-TEC motor is wear-free and converts the energy from the battery into optimum power with virtually no losses. The electronic motor management also guarantees maximum service life: Microprocessors monitor and control the temperature, voltage and current consumption of the motor, electronics and battery.
Durable and extremely light
The Li-HighPower Compact battery guarantees full power, while weighing considerably less. To provide even more endurance, the brushless and maintenance-free EC-TEC motor only takes as much power as required by each screwing task.
Precise work
With the handle positioned on the drilling and screwing axis, the handy and perfectly balanced C-design enables it to be positioned extremely accurately.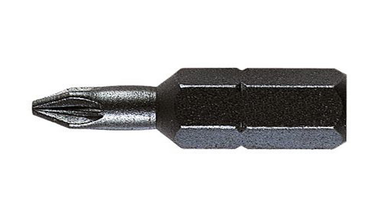 Ideal for tight spaces
As with all cordless drills from Festool, the bits can also be inserted in the direct bit holder of the spindle on the C 18.
Six bits always to hand
The practical bit holder provides space for up to six bits – magnetically secured against falling out.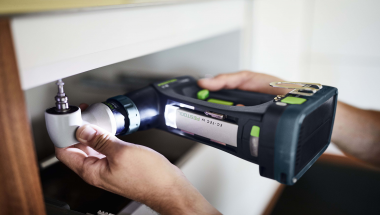 In the smallest of spaces
The angle attachment is perfect for work around corners and reaching concealed screws at tight angles.
Living on the edge
Every screw can be reached with the eccentric adapter.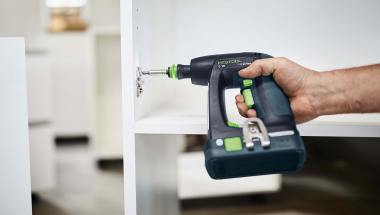 CENTROTEC quick-change system
Fast change between drilling, countersinking and screwdriving: The CENTROTEC quick-change system is a chuck and bit holder in one and, at the same time, 50% smaller and 80% lighter than a standard drill chuck. The hexagonal tools are centred using balls – for optimised power transmission and ten times higher true running.
Chuck for standard tools
The chuck with a standard width of up to 13 mm also enables the use of all standard bits and drill bits. Tool-free mounting via the FastFix interface.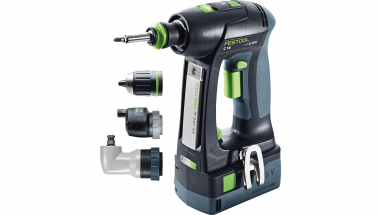 As versatile as your work
The C18 can easily adapt to whatever work you're doing. The flexibility of quick and easy chuck attachment changes means the C18 will always get the job done faster.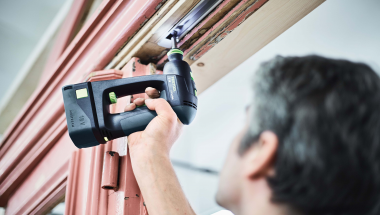 Optimum power performance
Fully electronic torque adjustment and shut-off for optimum power development in all situations. The torque setting for screwdriving is retained, even when drilling takes place at maximum torque.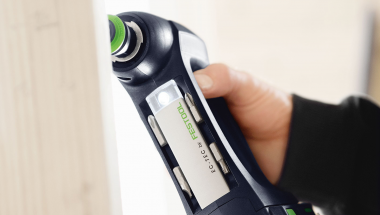 Optimal lighting
The integrated LED light permits precise work even in dark corners.

AIRSTREAM Battery
AIRSTREAM technology cools batteries for faster use and significantly increased charging capacity.

EC-TEC Brushless Motor
The EC-TEC drive concept generates an extraordinary amount of power while consuming extremely low amounts of energy.

Electronic
Speed control for adjusting to the working material.

FastFix
Makes changing accessories or consumables for routing, sawing, planing, sanding, drilling and screwdriving tools easier.

Lithium-ion battery
Fitted with high-performance lithium ion battery pack.

Plus Systainer
Plus versions of power tools come in systainer storage containers.

Torque Shut Off
Intelligent technologoy ensures the optimum screwdriving force for every material.
Tech Specs
Drilling Diameter Steel (mm)
13 mm
No Load Speed 1st Gear (rpm)
0 rpm - 450 rpm
No Load Speed 2nd Gear (rpm)
0 rpm - 1,500 rpm
Drilling Diameter Wood (mm)
40 mm
Battery Capacity (Ah)
5.2 Ah
Battery Type ie. Lithium-ion
Lithium-ion
Torque Adjustment 1st Gear (Nm)
0.8 Nm - 8 Nm
Torque Adjustment 2nd Gear (Nm)
0.5 Nm - 6 Nm
Maximum Torque Wood (Nm)
27 Nm
Maximum Torque Steel (Nm)
45 Nm
Chuck Range (mm)
1.5 - 13 mm