HKC 55 18V 160mm Cordless Circular Saw Basic in Systainer
Standalone in every situation
Features
Whether on the roof or on firm ground, whether reproducible angled cuts and guided cuts in combination with the FSK cross cutting guide rails and the FS guide rails or precise mitre cuts – the HKC 55 cordless portable circular saw demonstrates what modern circular saws are capable of. It proves it in every cut with its versatility, flexible usability and maximum precision day after day.
For more information on saw blades, applications, and compatible tools, see our guide to saw blades and how to get perfect cutting results.
Main applications
Rip and cross cuts in materials up to 55 mm thick
Ideal for mobile use on work sites
Cutting roof battens to length
Sawing lining boards/shuttering to size
Sawing boards to size
Cutting chipboard to size
Concentrated power
The combination of 18 V Li-ion AIRSTREAM battery pack and brushless EC-TEC motor with integrated motor management guarantees impressive cutting performance. Without the need for power outlets and cables.
For more mobility when working with timber
The HKC 55 cordless portable circular saw with FSK cross cutting guide rail demonstrates what a modern saw can achieve on the roof.
More independence, more precision
With the cordless mobility and FSK cross cutting guide rail, the HKC 55 guarantees precise angled cuts that can be replicated. Practically anywhere. And in practically any situation.
The quick-acting closure
Coupling the HKC 55 with the FSK cross cutting guide rail, which is available in three lengths, is incredibly easy. In no time at all, you have a mobile, easy-to-handle compound mitre saw system for precise and accurate angled cuts.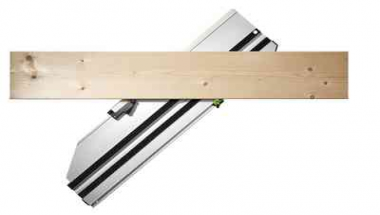 Stop system
The fixed positioning bolt and the adjustable stop allow angled cuts from –60° to +60° to be made and repeated exactly. For simple work, the most common angle settings are locked into place in the rail.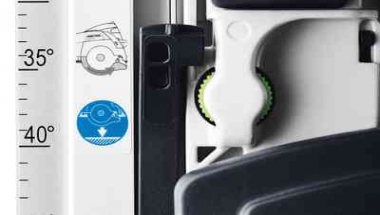 The retraction function
To ensure it is always ready for use, the cross cutting guide rail has an adjustable stop and an integrated rubber spring, which automatically brings the HKC 55 back to the starting position.
Extremely easy depth adjustment
Simply push the lever and set the desired cutting depth using the clearly visible and easy-to-read scale, then release – and you're done. When combined with the plunge cut function, you can also make plunge cuts to the preset cutting depth easily and conveniently.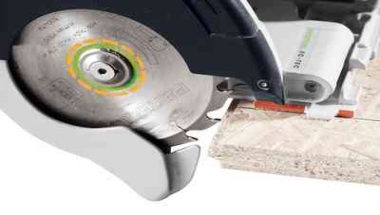 Pendulum hood remote control
To enable a clear view of the saw blade, the pendulum guard can be moved backwards from the front handle. This uncovers the saw blade and ensures your hands always remain at a safe distance from the saw blade.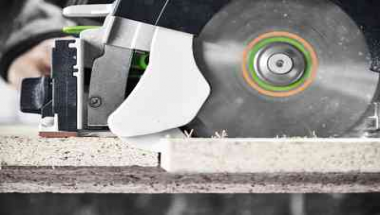 Guide wedge for a high level of safety
The guide wedge enables unobstructed, stress-free and therefore safe sawing. As it is integrated into the spring-mounted pendulum hood, it is also possible to carry out plunge cuts in a safe and unobstructed way.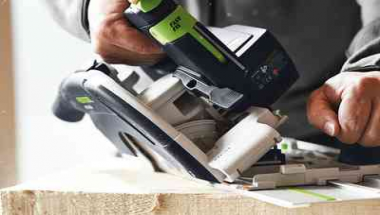 Scribe mark = cut
Precision work, even for mitre cuts of up to 50°. When working with the HKC 55 in combination with the guide or cross cutting guide rail, the scribe line will always follow the cutting edge exactly, even when mitre cutting.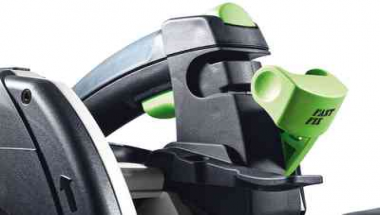 The FastFix saw blade change
Quick, one-handed and with no need for tools. Saves time and improves quality, because working with a material-specific saw blade goes without saying.
Precision guidance
The HKC 55 demonstrates its versatility when combined with the Festool guide rail system, too. For example, insulation boards can be cut to size quickly and accurately using the FS 1400/2.
Power show
AIRSTREAM technology guarantees faster re-use of battery packs and thus guarantees interruption-free work – even for energy-intensive applications such as sawing. This is because the new battery packs have an integrated cooling duct, thanks to which the cooling time and, as a result, the entire charging process can be reduced by up to 65% in combination with the new SCA 8 rapid charger. Furthermore, they are extremely robust with an integrated rubber frame to protect the workpiece and the battery pack and, thanks to the charge indicator, you can always clearly see how much charge is left in the battery.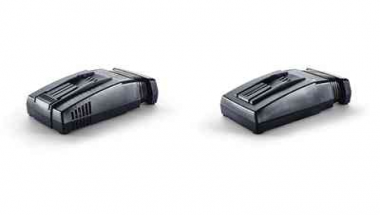 Rapid chargers with AIRSTREAM technology
TCL 6 and SCA 8 rapid chargers with charge indicator charge quickly and preserve the battery. In addition to their compact design, the chargers are also impressive due to their practical cord holder and simple wall mounting option. They are also extremely robust thanks to the fully encapsulated electronics. The SCA 8 rapid charger (which is included in the scope of delivery for the Plus SCA and Set versions) also features AIRSTREAM technology, which uses targeted cooling of the battery pack to reduce the charging process by up to 65%. An LED indicator on the device informs you of the remaining charge time in minutes and of the charging status.

AIRSTREAM Battery
AIRSTREAM technology cools batteries for faster use and significantly increased charging capacity.

CLEANTEC Connection System
Integrated bayonet fitting as the connecting element between the extractor and the tool.

Cross Cut Rails
Cross cutting system which joins power tool and cross cut rail firmly together for repeat cuts at precise angles.

EC-TEC Brushless Motor
The EC-TEC drive concept generates an extraordinary amount of power while consuming extremely low amounts of energy.

Electronic
Speed control for adjusting to the working material.

FastFix
Makes changing accessories or consumables for routing, sawing, planing, sanding, drilling and screwdriving tools easier.

Guide System
Patented guide system for safe guidance of saws and routers.

Lithium-ion battery
Fitted with high-performance lithium ion battery pack.

Quick Acting Brake
For safe work when planing, sawing and routing.
Tech Specs
Cutting Depth at 90° (mm)
55 mm
No Load Speed (rpm)
4,500 rpm
Saw Blade Diameter (mm)
160 mm
Cutting Depth at 45° (mm)
42 mm
Dust Extraction Connection Diameter (mm)
27 mm / 36 mm
Bevel Angle Range (°)
0° - 50°
Battery Capacity (Ah)
5.2 Ah
Battery Type ie. Lithium-ion
Lithium Ion
Cutting Depth at 50° (mm)
38 mm
Includes
HKC 55 Cordless Circular Saw