ISC 240 18V 240mm Cordless Insulation Saw Basic in Systainer
The revolution in insulating-material saws
Features
No matter whether freehand or guided with guide rail and stop system, whether working on roofing, scaffolding or flooring, with insulating material made of mineral fibres, natural fibres or PUR insulating boards – the ISC 240 impresses with its mobility, versatility and efficiency, making it the optimal solution for anyone wishing to insulate housing with minimum effort.
Main applications
For cutting flexible insulating materials such as glass wool, rock wool and natural fibres (with serrated saw blade cutting set)
For cutting PUR (polyurethane hard foam) and polystyrene insulating boards (with cross-set saw blade cutting set)
Cable-free cutting where there is no power connection or where this is difficult to access (e.g. outdoors, on scaffolding)
Ideal for mobile use in assembly applications
Cutting of flexible insulating materials with precise angles and accurate dimensions – when used together with the guide rail and the FS-WA-ISC angle stop
Alternate top bevel saw blade (W/PW)
Mobile and ergonomic
Low weight, rubber handle areas and a perfectly balanced design – for maximum comfort when working, even in one-handed operation. The double-click protective function prevents the tool from being switched on accidentally for safety while working.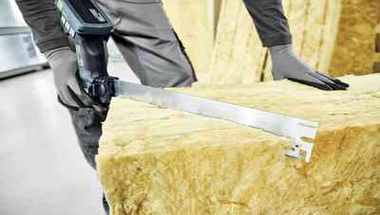 Versatile
For flexible insulating materials such as mineral wool and natural fibres with serrated cutting set, for insulating materials such as PUR and styrofoam with cross-set cutting set. In two lengths (240 mm/350 mm) for different material thicknesses.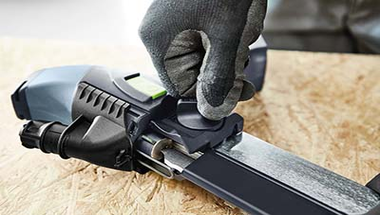 Quick and durable
The cutting sets with special saw blades allow you to make rapid progress on your work with an extra-long service life, even with insulating materials up to 350 mm. Thanks to the quick-change system, the cutting set is replaced easily and without the need for tools in next to no time.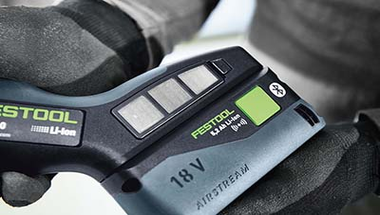 Extremely robust
A grille protects the maintenance-free brushless EC-TEC motor against dust and fibres and therefore makes it suitable for heavy-duty work on construction sites.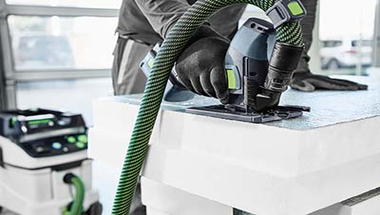 Low-dust work
When cutting insulating materials that produce dust, a mobile dust extractor can be connected via the extraction adapter. For a dust-free and healthy working environment.
Cordless power
The combination of brushless EC-TEC motor with 18 V Li-ion battery guarantees long-lasting performance and high traction.
Roller base
The rolling base lifts insulation panels off the surface for a clean cut all the way through the material.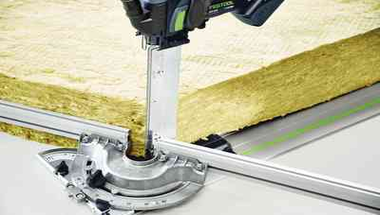 Clean cutting surface
With the guide rail and angle stop (available in a set or as accessories), repeat cuts can be made perfectly straight and with precise angles.

Electronic
Speed control for adjusting to the working material.

EC-TEC Brushless Motor
The EC-TEC drive concept generates an extraordinary amount of power while consuming extremely low amounts of energy.

Guide System
Patented guide system for safe guidance of saws and routers.

FastFix
Makes changing accessories or consumables for routing, sawing, planing, sanding, drilling and screwdriving tools easier.

CLEANTEC Connection System
Integrated bayonet fitting as the connecting element between the extractor and the tool.
Tech Specs
Stroke Rate (rpm)
3,000 min⁻¹
Cutting Depth (mm)
240 mm
Dust Extraction Connection Diameter (mm)
27 mm
Weight with Li-Ion battery
2.5 kg (with 5.2 Ah Li-Ion battery)
Includes
ISC 240 18V 240mm Cordless Insulation Saw