CTMC SYSI 5l M Class 18V Cordless Mobile Dust Extractor
Available in January 2023, subject to supplier availability and shipping
Cordless mobile dust extractor
Features
Always at hand, with no power cord. Systainer on the outside, cordless dust extractor on the inside. Our Systainer extractor gives you maximum mobility and independence with minimum weight – perfect for transporting and carrying over your shoulder. That makes it the right companion for service callouts and small jobs, and for spur-of-the-moment use.
In dust class L/M, it gives you dust-free work without a power socket. It also impresses with very high suction power, thanks to its 36 V turbine and 2 x 18 V battery packs. And as usual, everything is fully compatible: the dust extractor, smooth suction hose, cordless tool, Systainer T-LOC connection. Perfect interaction between the cordless tool and the dust extractor is provided by the innovative Bluetooth® Autostart or the practical remote control.
For a system that's perfect in every way.
Strengths and benefits
Powerful: the 36 V turbine provides power comparable to a corded dust extractor
Practical: the extractor is switched on automatically via the Bluetooth® battery pack or the remote control
Independent: dust extraction with no power sockets, with 2 x 18 V (4.0 Ah) battery packs
Unbeatable mobility: compact Systainer size and minimal weight, perfect for transportation
No interruptions: four battery packs and TCL 6 DUO rapid charger so you can work without stopping on most cordless applications
Comfortable: with shoulder strap for easy carrying, and just as big as it needs to be thanks to the detachable hose garage
Adjustable: suction power can be set to three levels
Compatible: connects to Systainers and integrates into Bott vehicle racking systems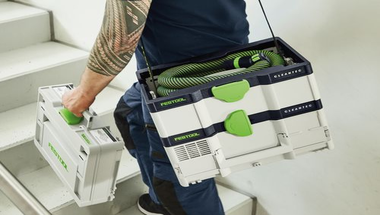 Easy to transport, for less running around
Low weight, the Systainer size and the shoulder strap allow you to simply hang the extractor over your shoulder, leaving your hands free for any tools or other materials you might need.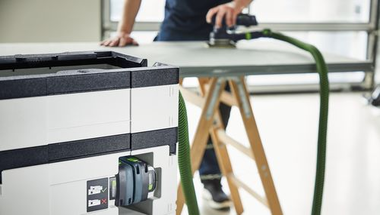 Highly absorbent
Power to rival the corded version, thanks to the 36 V turbine with 2 x 18 V battery packs (4.0 Ah).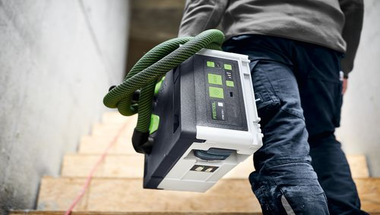 Just as big as it needs to be
By detaching the hose garage, the CTC SYS can get even smaller.
Bluetooth® technology built in
Ideal interaction with Festool cordless tools. Quick and convenient: the extractor is switched on automatically via the Bluetooth® battery pack.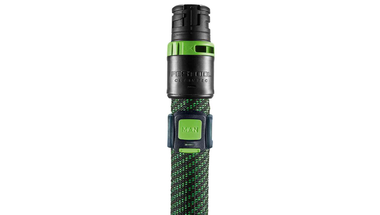 Practical remote control
Switching on the dust extractor via the remote control right on the suction hose saves you going to the extractor. Ideal for cleaning between work steps.
Working without interruptions
With four battery packs and the TCL 6 DUO rapid charger, you can work uninterrupted on most cordless applications.
Suction power adjustment
Suction power adjustable in three levels. You can choose the right level for your application, to extend the running time of the battery.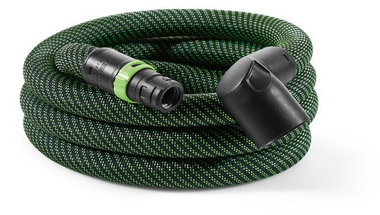 Smooth suction hose
Smooth, elastic and extremely tough. The suction hose boasts impressive flexibility, gliding over any edge.

Bluetooth Interface
Use of mobile devices via Bluetooth standard.

CLEANTEC Connection System
Integrated bayonet fitting as the connecting element between the extractor and the tool.

Electronic
Speed control for adjusting to the working material.

Lithium-ion battery
Fitted with high-performance lithium ion battery pack.

MMC Electronics
Multi Material Control power electronics with adjustable constant speed and temperature monitoring for work with all types of materials.
Tech Specs
Maximum Airflow (litres per minute)
2 400 l/min
Maximum Vacuum (Pa)
18 000 Pa
Filter Surface Area (cm2)
5 357 cm²
Container/Filter Bag Capacity (litres)
4.5/3.5 l
Dust Approval Rating
Dust Class M - medium risk dust such as mineral and wood dust
Dimensions - L x W x H (mm)
396 x 297 x 307 mm
Includes
CTMC SYSI 5l M Class 18V Cordless Mobile Dust Extractor