CTMC MIDI 15l M Class 18V Cordless Mobile Dust Extractor
Available in January 2023, subject to supplier availability and shipping
Compact suction power without a cable. Perfected for your cordless tools.
cordl. dust ext CTMC MIDI I-Basic
Features
Comparable power to your corded version thanks to the 36 V turbine with 2 x 18 V battery packs (4.0/5.2/8.0 Ah). This makes it ideal for mobile sawing, sanding or drilling.
Ideal combination with Festool cordless tools. Convenient and fast: The extractor switches on automatically via the Bluetooth® battery pack.
Switching on the extractor via the remote control directly on the suction hose saves you a trip to the extractor. Ideal for occasional cleaning tasks.|Adjustable suction power in three levels. The appropriate level can be selected depending on the application, which increases the battery runtime.
With four battery packs and the TCL 6 DUO rapid charger, work can be done in most cordless applications without interruptions.|Smooth and effortless. The suction hose will impress you with flexible handling and a long service life. It glides over every edge and possesses conical geometry for increased suction power.
The large internal hose holder makes it easy to stow the suction hose, ensuring safe and clean transport.
With the manual main filter and filter bag dedusting, the suction power can be quickly and easily recovered when the filter or filter bag is clogged. This significantly increases the fill level.
Quick, easy and tool-free. The attachable accessory case means that you have everything to hand. It offers space for additional battery packs and cleaning accessories (case available as an accessory).
The cordless dust extractor is approved for harmful dust particles in dust class M with limit values ≥0.1 mg/m³. It is suitable for the extraction of wood and mineral dust.
The flat storage area on top of the hose holder can be used as a seat or as a shelf for working materials. Thanks to T-LOC, the extractor can be coupled with Systainers.
Practical remote control
Switching on the dust extractor via the remote control right on the suction hose saves you going to the extractor. Ideal for cleaning between work steps.
Working without interruptions
With four battery packs and the TCL 6 DUO rapid charger, you can work uninterrupted on most cordless applications.
Suction power adjustment
Suction power adjustable in three levels. You can choose the right level for your application, to extend the running time of the battery.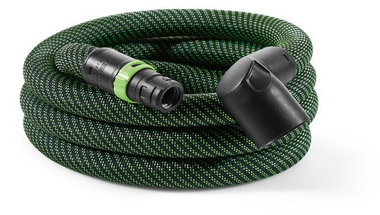 Smooth suction hose
Smooth, elastic and extremely tough. The suction hose boasts impressive flexibility, gliding over any edge.

Antistatic Function
Dust extractors and tools with antistatic function to prevent static buildup when working.

Electronic
Speed control for adjusting to the working material.

Bluetooth Interface
Use of mobile devices via Bluetooth standard.

CLEANTEC Connection System
Integrated bayonet fitting as the connecting element between the extractor and the tool.

Lithium-ion battery
Fitted with high-performance lithium ion battery pack.

Smooth Sleeve Hose
With a smooth exterior which allows it to slide over surfaces perfectly
Tech Specs
Maximum Airflow (litres per minute)
3 100 l/min
Maximum Vacuum (Pa)
19 000 Pa
Filter Surface Area (cm2)
3 369 cm²
Container/Filter Bag Capacity (litres)
15/12.5 l
Battery Capacity (Ah)
4,0 / 5,2 / 8,0 Ah
Auto Clean Function (Yes/No)
Yes
Dust Approval Rating
Dust Class M - medium risk dust such as mineral and wood dust
Dimensions - L x W x H (mm)
550 x 320 x 495 mm
Technology ie. Bluetooth
Bluetooth®
Run time 2 x 4.0Ah
12 - 22 min
Run time 2 x 5.2Ah
16 - 30 min
Run time 2 x 8.0Ah
24 - 45 min
Includes
CTMC Midi 15l M Class 18V Cordless Mobile Dust Extractor