VAC SYS Compressed Air Pump System
for use with the VAC SYS Vacuum Clamping Units
Features
The Festool vacuum clamping system makes the seemingly impossible become possible - clamping without limits. The VAC SYS Vacuum Clamping Compressed Air Pump creates suction power for use with the VAC SYS SE 1 Vacuum Clamping Unit and VAC SYS SE 2 Vacuum Clamping Unit. The pump is compact and lightweight for easy transportation in a systainer. Suitable for use in the workshop and on the job site.
Protect your surface
The high quality plastic used in the vacuum pad is so soft and flexible that the material surface is thoroughly protected. Even highly polished surfaces stay free of scratches and damage.
A strong hold
The clamping unit supports work pieces up to 30 kg and 1 m x 1 m. For large work pieces, simply expand the system with a second clamping unit.
Versatile and flexible
You can securely clamp curved or rounded work pieces, thanks to the four different vacuum pads available. The FastFix system allows pads to be changed over quickly and tool free.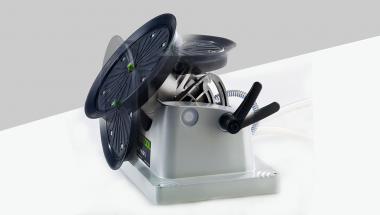 Clamping without limits
The vacuum clamping system allows you to process work pieces from all sides without re clamping, because the vacuum pad can be rotated through 360 degrees and pivoted up to 90 degrees.
Pair with MFT system
The VAC SYS can be connected to the MFT 3 multifunction table using an adapter plate. When you have finished clamping, simply fold the VAC SYS down and out of the way.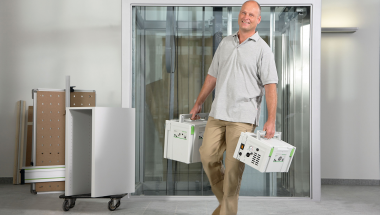 Mobile
The pump is compact and lightweight for easy transport in a systainer, as are the clamping units. Suitable for use in the workshop or on site.
Tech Specs
Protection
water and dust resistant
Power Consumption at 50 Hz
160 W min - 200 W max
Power Consumption at 60 Hz
200 W min - 230 W max
Rotational Speed (rpm)
2800 rpm at 50 Hz, 3300 rpm at 60 Hz
Pump Capacity at 50 Hz (cubic meters/per hour)
2.7 cubic metres/hour
Pump Capacity at 60 Hz (cubic meters/per hour)
3.5 cubic metres/hour
Power Lead Type
Fixed Lead
Dimensions - L x W x H (mm)
395 mm x 295 mm x 210 mm
Frequency (Hz)
50 Hz / 60 Hz
Noise Level (55 dB(A))
55 dB(A)
Run Time (hours)
5000 hours - 8000 hours
Includes
VAC SYS Vacuum Clamping Compressed Air Pump
VAC SYS SE 1 Vacuum Clamping Unit sold separately