TURBO II 7.5kW Centralised Extraction Turbine
High performance with lowest energy consumption
Features
The Festool Turbo II 14WP centralised extraction turbine features dynamic control technology that maintains constant vacuum power for up to 14 work stations. The patented dynamic control unit (DC-TEC) automatically reduces the energy consumption to the absolute minimum depending on the number of workplaces in operation saving up to 80 % of energy cost. This intelligent system controls the relationship between the requested suction power and required energy. In addition, automatic filter cleaning cycles are carried out continuously in order to guarantee 100% suction power. Approved for dust class M extraction.

Main Applications
Dust extraction of dust class M
Extraction of up to 14 sanding work stations
Extraction of grinding dust, for example from fillers, priming material and paint
Part of the Festool workstation system with the ASA boom arm, EAA power box and sanders
Reduced energy costs
Dynamic Control Technology designed to maintain constant vacuum power while reducing energy consumption to the lowest possible level, saving up to 80 % of energy cost.
Automatic cleaning
Continuous automatic filter cleaning cycles guarantee 100% suction power.
One machine to maintain
One central machine for reduced maintenance and repair work.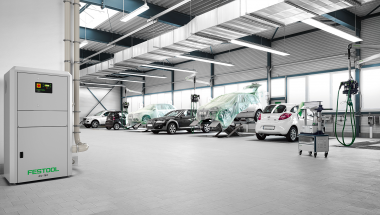 System solution
Up to 14 work stations can be set up with ASA boom arms, EAA power boxes and sanders.

Electronic
Speed control for adjusting to the working material.

FlowDetect
Health protection flow sensor which monitors a minimum air speed of 20m/sec and issues a warning if the air speed falls below that value.
Tech Specs
Maximum Airflow (litres per minute)
1230 m3/h (65 Hz)
Filter Surface Area (cm2)
75,000 cm2
Noise Level at 40 Hz (dB(A))
65 dB(A)
Maximum Number of Workstations
14
Motor Frequency Controlled (Hz)
20 Hz - 65 Hz
Maximum Workstation Vacuum (mbar)
140 mbar
Tube Connection (Air Flow / Exhaust) (mm)
100 mm / 125 mm
Maximum Line Length (mm)
100 mm
Container/Filter Bag Capacity (litres)
50 L
Power Consumption (W or kW)
7.5 kW at 50 Hz
Dimensions - L x W x H (mm)
805 mm x 1048 mm x 1740 mm
Includes
TURBO II M-14WP R1 Centralised Extraction Turbine
Accessories & Consumables