TSC 55 18V 160mm Cordless Plunge Saw 5.2Ah Set
Powerful, accurate and portable
TSC 55 REB Li 5.2Ah SCA8 charger
Features
The cordless TSC 55 Plunge Cut Saw has an impressive speed of 5,200 revolutions per minute, allowing for perfect cut quality and fast working. It can operate with two 18V battery packs for maximum power or one 18V battery pack for low weight flexibility. MMC electronics provide soft start up and constant speed under load. The saw sits easily on a guide rail for perfect straight guidance and exact cuts, even on an angle. The attachable splinterguard ensures cuts are completely splinter free on both sides. Pair it with a Festool Dust Bag or Dust Extractor and dust will be removed immediately for a clear view of the cut and reduced clean up time. Cut a wide range of building materials including timber, particleboard, MDF, cement sheet products, even aluminium - quickly, accurately and without mess.
Main Application
Cutting doors to length and width using the guide rail
Cutting full sheet materials to size
Cutting and processing cement sheet products
Trimming up to 12 mm from edges
Plunge cutting applications such as sink cut outs and vents in doors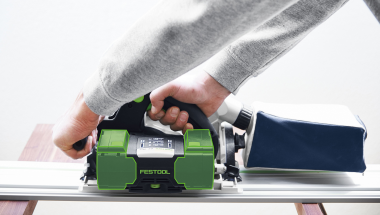 Quicker, better results
The combination of powerful lithium-ion batteries and the Festool EC-TEC motor produces uncompromising performance. The possible options offered by the double battery concept provide even greater flexibility for maximum performance or minimum weight.
Greater versatility
The ultra flat housing and repositioned extraction socket of the TSC 55 saw creates a completely flat surface, allowing you to saw along edges just 12 mm away from the wall.
Perfect splinter free finish
The attachable splinterguard and guide rail work together to produce smooth, splinter free cuts on both sides of the blade. No finishing sanding required.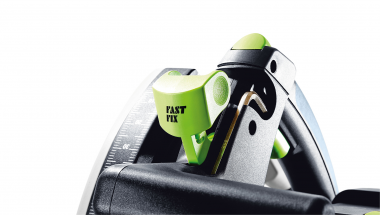 Tool free blade changes
FastFix rapid change system for easy saw blade changes.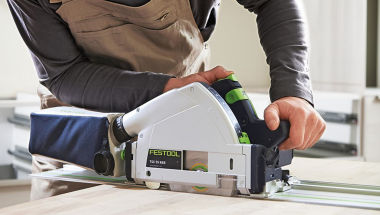 The perfect team
The guide rail works with the TSC 55 to ensure all your cuts turn out perfectly. Scribe a line, align the guide rail and cut. Zero play guidance ensures no more time consuming planing work, saving you time and money.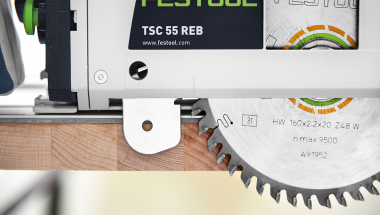 More secure and convenient
The spring mounted guide knife comes out in front of the saw blade, prevents jamming and makes it easier to place the blade in existing cuts.

AIRSTREAM Battery
AIRSTREAM technology cools batteries for faster use and significantly increased charging capacity.

CLEANTEC Connection System
Integrated bayonet fitting as the connecting element between the extractor and the tool.

EC-TEC Brushless Motor
The EC-TEC brushless drive concept generates an extraordinary amount of power while consuming extremely low amounts of energy.

FastFix
Makes changing accessories or consumables for routing, sawing, planing, sanding, drilling and screwdriving tools easier.

Guide System
Patented guide system for safe guidance of saws and routers.

Lithium-ion (Li)
Fitted with high performance lithium ion battery pack.

MMC Electronics
Multi Material Control power electronics with adjustable constant speed and temperature monitoring for work with all types of materials.

Quick Acting Brake
For safe work when planing, sawing and routing.

Splinterguard
Patented splinterguard for splinter free cuts on both sides when sawing.
Tech Specs
Tool Weight (kg)
4.6 kg / 5.3 kg
Battery Voltage (V)
18V to 36V
No Load Speed (rpm)
2,650 rpm - 3,800 rpm / 5,200 rpm
Saw Blade Diameter (mm)
160 mm
Cutting Depth (mm)
0 mm - 55 mm
Cutting Depth at 45° (mm)
43 mm
Dust Extraction Connection Diameter (mm)
27 mm / 36 mm
Bevel Angle Range (°)
-1° to 47°
Battery Capacity (Ah)
5.2 Ah
Battery Type ie. Lithium-ion
Lithium-ion
Includes
TSC 55 Cordless Circular Saw