TS 75 210 mm Plunge Cut Saw Plus
75 mm cuts and no competition
Features
The TS 75 Plunge Cut Saw has a cutting depth of 75 mm and a host of benefits that no other plunge cut saw can rival. Ideal for jobs involving larger workpieces. Saw thick workpieces with one cut, no turning required and save time as rework is minimised. With a large range of saw blades to offer, Festool's FastFix blade change system allows you to change blades in just a few moves to ensure you have the correct blade for the material. This guarantees a perfect quality cut and a long blade life. Easily mounted to a guide rail with zero play adjustment, you are guaranteed perfect straight guidance and exact splinter free cuts, even on an angle. When paired with a Festool Dust Extractor, dust is removed immediately for a clear view of the cut and reduced clean up time.

Main Applications
Cutting and machining conservatory profiles
Cutting doors to length
Cutting recesses in kitchen worktops
Cutting cable ducts to length
Accurately cutting false floors to size
Cutting multilayered and thick boards
Cutting steel sheet up to 3mm
75 mm cutting depth
Unrivalled 75 mm cutting depth saves turning thick workpieces.
Clever riving knife
Spring loaded riving knife gives unhindered plunge cuts.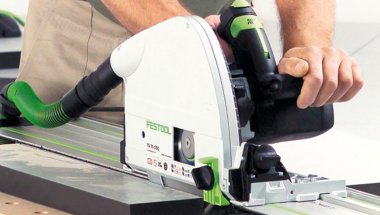 Safe to use
Quick acting brake provides safe, convenient sawing.
Straight and splinter free
Attachable splinterguard and guide rail give smooth cut on both sides.
Tool free blade changes
FastFix rapid change system for easy saw blade changes.

CLEANTEC Connection System
Integrated bayonet fitting as the connecting element between the extractor and the tool.

FastFix
Makes changing accessories or consumables for routing, sawing, planing, sanding, drilling and screwdriving tools easier.

Guide System
Patented guide system for safe guidance of saws and routers.

MMC Electronics
Multi Material Control power electronics with adjustable constant speed and temperature monitoring for work with all types of materials.

Plug-it
Removable, replaceable power cable with safety lock for fast switchover.

Plus Systainer
Plus versions of power tools come in systainer storage containers.

Quick Acting Brake
For safe work when planing, sawing and routing.

Splinterguard
Patented splinterguard for splinter free cuts on both sides when sawing.
Tech Specs
Cutting Height 45° (mm)
0° - 48°
Module Support Dimensions (mm)
578 mm x 320 mm
Cutting Height 90° (mm)
0° - 70°
No Load Speed (rpm)
1,350 rpm - 3,550 rpm
Saw Blade Diameter (mm)
210 mm
Dust Extraction Connection Diameter (mm)
27 mm / 36 mm
Power Lead Type
Plug-it Lead
Power Consumption (W or kW)
1,600 W
Module Support Weight (kg)
3.3 kg