TS 55R 160mm Plunge Cut Circular Saw in Systainer with 1400mm Rail
The best plunge-cut saw we have ever built.
Features
One excellent feature is the ultra-flat and, thanks to the inward-pointing extractor connector, completely flat housing. With no body, it is possible to saw close to the edges with a minimum 12 mm wall spacing. Available with a viewing window or splinter guard, the TS 55 R gives you even more control and perfect results. Another key feature is the newly developed spacer wedge. It stands out in front of the saw blade, provides safety and guarantees precise positioning in existing saw cuts. There is also an extended angle setting and a dual display for cutting depth adjustment. This ensures even more precision and easy operation. Overall the best circular saw we have ever made.
Test report: EVA Respirable Crystalline Silica and Total Respirable Dust Exposures Report
Test report: ESP Airborne Occupational Exposure Report
For more information on saw blades, applications, and compatible tools, see our guide to saw blades and how to get perfect cutting results.

Main Applications
Precise circular in materials up to 55 mm thick
Cutting interior doors to length using guide rail and circular saw
Manufacturing expansion joints in parquet flooring and false joints
Cutting chipboard to size
Cutting and processing plasterboard
Optimum cutting quality
For high-quality working results: The guide rail guarantees clean, splinter-free cuts. The TS 55 R is fitted with guide jaws that do not require tools to be adjusted, in order to enable the saw to operate without any inaccuracy.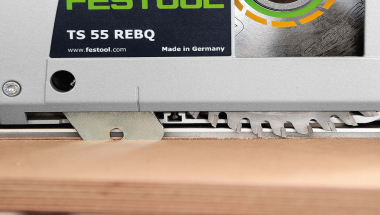 More safety, more comfort
The spring-loaded guide wedge runs in front of the saw blade to prevent it from jamming and makes it easier to insert the blade in existing joints.
Exact depth setting
Easy to read and adjust: The dual cutting depth scale for working with or without a guide rail. With extra-large font and fine adjustment feature to perform accurate plunge cuts.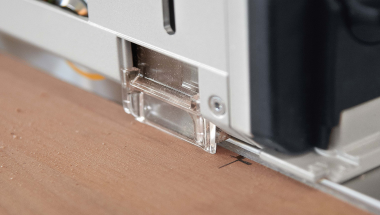 Splinter-free sawing on both sides
With the clip-on splinter guard in combination with the guide rail it is even possible to saw on both sides without splinters. Advantage: No rework and considerably less workpiece waste.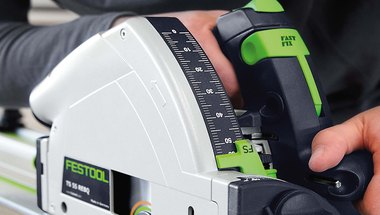 FastFix saw blade changing system
Work adapted to the material. The FastFix spindle stop makes it extremely easy to change the saw blade in no time at all. This way, you are always working with the right saw blade and sawing at a speed adapted to the material.
MMC electronics
Perfect adaptation to the working material, controlled speed and temperature monitoring. The quick-acting brake improves safety by stopping the saw blade in seconds.
Dust-free work
The extractor connector, which can be rotated by 360°, makes it exceptionally easy to adjust the dust extractor to suit the working position.
Cutting angle
The angles 0° and 45° can be selected directly using the locking positions. Undercuts from -1° to 47° are also possible with the extended adjustment option.

CLEANTEC Connection System
Integrated bayonet fitting as the connecting element between the extractor and the tool.

FastFix
Makes changing accessories or consumables for routing, sawing, planing, sanding, drilling and screwdriving tools easier.

Guide System
Patented guide system for safe guidance of saws and routers.

MMC Electronics
Multi Material Control power electronics with adjustable constant speed and temperature monitoring for work with all types of materials.

Plug-it
Removable, replaceable power cable with safety lock for fast switchover.

Plus Systainer
Plus versions of power tools come in systainer storage containers.

Splinterguard
Patented splinterguard for splinter free cuts on both sides when sawing.

Quick Acting Brake
For safe work when planing, sawing and routing.
Tech Specs
No Load Speed (rpm)
2,000 rpm - 5,200 rpm
Saw Blade Diameter (mm)
160 mm
Cutting Depth (mm)
0 mm - 55 mm
Cutting Depth at 45° (mm)
43 mm
Dust Extraction Connection Diameter (mm)
27 mm / 36 mm
Bevel Angle Range (°)
-1° to 47°
Clearance when sawing next to walls (mm)
12
Power Lead Type
Plug-it Lead
Power Consumption (W or kW)
1,200 W