Titan Abrasive Disc 150mm 16 Hole P360 - 100 Pack
STF D150/16 P360 TI2/100x
Features
The 150 mm diameter StickFix Titan 2 sanding discs are an ideal abrasive for solid surface and automotive finishes. Titan 2 range from P80 up to P800 grit abrasives and P1200 up to P3000 unperforated grit abrasives both of which are primarily used for automotive repairs. Stearate based, aluminium oxide abrasive incorporates a latex backing for increased flexibility when sanding contoured surfaces, ensuring high surface quality and longer useful life. Jetstream design delivers highly efficient dust removal, resulting in cleaner air. StickFix hook and loop design for quick and efficient abrasive changes.
No disintegration
Extremely tear resistant and flexible synthetic resin bonds the two layers of abrasive grit, this prevents premature disintegration.
Even sanding
Uniform grains ensure a consistent depth of roughness across the abrasive. Resulting in a clean sanding finish with less rework.
Wear resistant grit
The abrasive grain is very durable, each grain retains its shape even under the toughest conditions.
Quick changes
Festool abrasives are changed without gluing or clamping, just pull one off and attach the next one.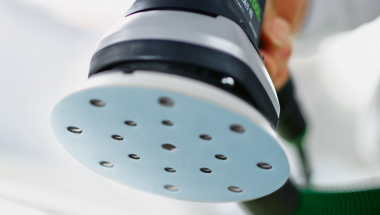 Improved dust extraction
The Jetstream and Multi Jetstream Festool design increases the service life of your abrasives, as it allows dust to flow through the abrasive to the extractor without clogging.
Includes
100 x Abrasive Discs 150 mm P360