Systainer3 SYS 1 for 80x133mm / D125mm / 100mm Delta Abrasives
SYS-STF-80x133/D125/Delta
Features
Stores any abrasive in a dedicated space, clearly organised, efficiently protected against moisture and always to hand. The pivotal point of the SYSTAINER is the T-LOC, the central control element: Close, open, connect with just a single turn. Particularly time-saving: With T-LOC, the SYSTAINER T-LOC can be opened without having to disconnect it from the other SYSTAINERS beforehand.
With insert for abrasives 80x133 mm, Ø 125 mm and detail sheets
Main applications
Permanent organisation, clear overview, flexible modules
Saves significant time, effort, movement, expense
Simple, compact transport
Provides a professional appearance to customers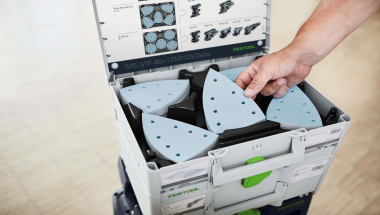 Abrasives magazine made to measure
Eight compartments for organised storage of all abrasives – new, reusable, used.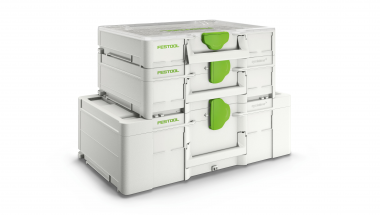 Open, close, connect with a single turn
T-LOC is the central control element which combines three functions in one and is incredibly easy to operate.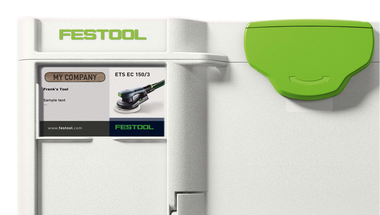 Clear marking
Label fields for inserting business cards or labels that can be created and printed easily and with a clear font via the Festool website.
Secure connection
Systainers are compatible with and can be connected to all Systainer generations, mobile dust extractors and many other system accessories.
All-round protection
Dust and spray water don't stand a chance. Protected against temperature fluctuations and impacts, easy to transport.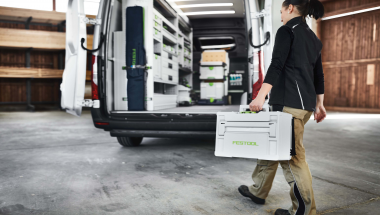 SYSTAINERS for maximum robustness
The combination of 100% ABS plastic and a robust structural design guarantees maximum strength.
For extreme temperatures
SYSTAINERS are designed for temperatures of +90°C to -40°C. In short: They are indestructible.
Tech Specs
Dimensions - L x W x H (mm)
396 x 296 x 105 mm
Includes
Systainer3 SYS 1 for 80x133mm Abrasives