Built tough for the work site
Features
The SYSRock site radio combines compact dimensions and low weight with a perfect sound. Made of durable and sturdy plastic housing, with a splash resistant, 10 W, 2.5 inch speaker and flexible antenna the SYSRock is built for the work site. Thanks to the Bluetooth interface and integrated hands free functions, you can listen to not only your favourite radio stations, but also to songs on your smartphone with SYSRock quality sound. It can double as a hands free phone for constant availability. To make sure nothing gets in the way of your music enjoyment, SYSROCK automatically adjusts bass on the selected volume via a digital sound processor and includes an illuminated LCD screen and easy to use controls with extra large buttons including 4 station buttons for station memory, that can be pressed even with gloves. The SYSRock can be powered either from mains power or by battery.
Main Applications
Music streaming via Bluetooth
AUX input for connecting devices
USB port for connecting devices
Hands free phone integration
Outstanding sound quality
Outstanding sound quality through the splash resistant 10 watt, 2.5 inch neodymium speaker.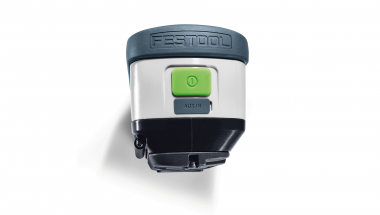 Bluetooth and AUX
Versatile reception for FM radio and additional playback options via Bluetooth and AUX-IN jack.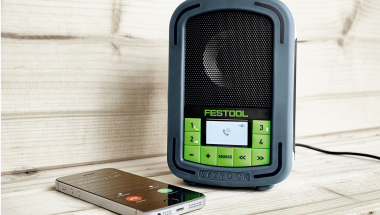 Stream from your phone
Stream songs straight from your smartphone and use the hands free function to make and recieve calls without stopping work.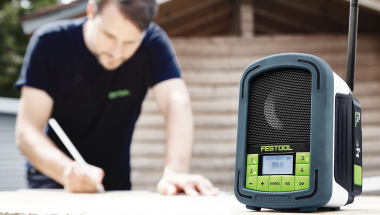 Intuitive operation
Intuitive operation with colour LCD display and large buttons that can be pressed with work gloves on.
When size matters
Small enough to fit on any window sill the SYSRock combines compact dimensions and low weight with a perfect sound.
Many mounting options
Hang the SYSROCK from the universal hook or mount on the tripod socket accessory.

Bluetooth Interface
Use of mobile devices via Bluetooth standard.

DAB+
Playback in DAB+ standard.

Handsfree Telephone Function
Telephone calls (in full duplex) via feedback.

USB Port
For charging external devices.
Tech Specs
Battery Voltage (V)
10.8V - 18V
Power Source
Cordless or Corded
Battery Type ie. Lithium-ion
Lithium-ion
Dimensions - L x W x H (mm)
95 x 102 x 149
Tuner Type ie. Digital or Analogue
Analogue
FM Frequency Band (VHF, MHz)
87.5 VHF / 108 MHz
Number of Stored Stations ie. 4 stations
4 stations
Auxilary Input (mm)
3.5 mm