SSU 200 Universal 200mm Sword Saw in Systainer with FS 800mm Guide Rail
Small and handy with 200 mm cutting depth
Features
The SSU 200 Univers Sword Saw cuts all standard materials used in the timber construction industry from wood to hard insulating materials, providing precision cuts up to 200 mm deep with ease. The FastFix interface allows you to change or tension the chain in no time, without tools. A variety of chains are available for different applications including a universal chain which is ideal for rip and cross cuts, a longitudinal chain which is perfect for rip cuts and an ISO chain for cutting both flexible and compression resistant insulation materials. The SSU 200 is lightweight, weighing in at only 6.5 kg and has an ergonomically designed grip which makes it easy to handle. Pair your SSU 200 with a Festool Dust Extractor and chips and dust will be removed immediately for a clear view of the cut and reduced clean up time.
Main Applications
Cutting soft and hard timber
Cutting wood fibre and PU insulating boards
Cutting polystyrene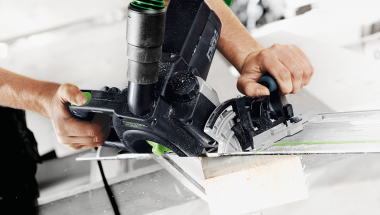 Ingenious compound cuts
To make a precise compound cut use a guide rail and set the mitre guide and mitre angle.
Quick clamping, precise sawing
The innovative FS Rapid clamping system for guide rails keeps the guide rail where it should be, along with the scribe mark.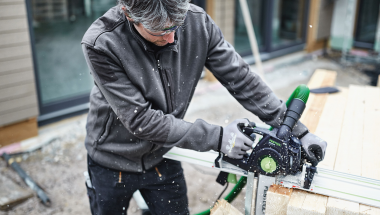 Guide rail precision
Whether for cross, rip of mitre cuts, the Festool guide rail gives you perfect straight cuts, free of tear out.
ISO Chain
Use the ISO Chain when cutting compression resistant insulation material to ensure perfect cutting results.
Breathe easy
The sword saw comes with a dust extraction connector, so chips and dust can be removed immediately when paired with a Festool dust extractor.
Tool free chain changes
The FastFix interface allows you to change or tension the chain in no time, without tools.

Electro Dynamic Run Down Brake
The saw chain is immobilised the instant the speed regulator is released.

Electronic Monitoring
Electronic monitoring of the coil temperature protects against damage to the motor.

Electronic Overload Protection
Protects the motor with blocking tool.

Guide System
Patented guide system for safe guidance of saws and routers.

MMC Digital Electronics
Processor controlled "Multi Material Control" power electronics provide adjustable and constant speeds as well as temperature monitoring for work on all types of material.

Plus Systainer
Plus versions of power tools come in systainer storage containers.

Starting Current Limiter
Simple start for house hold fuses.

Standard Connection
Built in connector for dust extraction.
Tech Specs
Power consumption
1,600 W
Cutting Depth at 90° (mm)
200 mm
Cutting depth 45°/60°/90°
140 / 100 / 200 mm
No-load speed
4,600 min-¹
No Load Speed (rpm)
4,600 rpm
Cutting Depth at 45° (mm)
150 mm
Dust Extraction Connection Diameter (mm)
36 mm / 27 mm
Power Lead Type
Fixed Lead
Power Consumption (W or kW)
1,600 W
Cutting Depth at 60° (mm)
100 mm
Chain Speed (meters per second)
10.6 meters per second