RTSC 400 18V Cordless 80 x 133mm 1/4 Sheet Orbital Sander Bluetooth Set
Unparalleled mobility and freedom
Features
The cordless and compact RTSC orbital sander gives you unparalleled mobility and freedom of movement when working. It has a 2 mm sanding stroke and is ideal for achieving an outstanding surface quality when finishing or pre sanding. The powerful 18 V Bluetooth® Ergo battery pack with 3.1 Ah ensures cordless freedom with plugged-in performance. Bluetooth® allows automatic starting of the CLEANTEC dust extractor when the cordless tool is switched on (requires use of a Bluetooth®-capable dust extractor); not compatible with all other Festool cordless tools. The battery is the key to an extremely compact design with balanced weight distribution and perfect ergonomics, weighing just 1.4 kg. The sander features dedicated dust extraction combined with a longlife dust catcher which allows flexible handling of the tool. The light weight design guarantees non-tiring work, even when carrying out overhead work. Ideal for vertical surfaces or in hard to reach places. For​ unlimited working time, swap your batter pack for the plug-it power adapter. Ideal for bench mounted use in combination with a Festool mobile dust extractor.

Main Applications
Convenient working with dust extraction – Bluetooth® battery pack automatically starts Bluetooth®-compatible mobile dust extractor in AUTO mode
Ideal for finishing and overhead work
Fine sanding of flat surfaces
Extra fine sanding of internal corners
Pre Sanding of flat surfaces
Outstanding results on wood, plastic or paint
Comfortable sanding in any position
Overhead, vertical or hard to reach surfaces – you can work effortlessly anywhere thanks to the light weight and perfectly balanced weight distribution.
Battery or power cord - you choose
Carry out work that requires a longer operating time by swapping the 18V Bluetooth® battery pack for the plug-it power adapter.
Powerful and long lasting
Continuous sanding and performance that's like working from an electrical socket – thanks to the efficient brushless EC-TEC motor with 18V Bluetooth® Ergo battery pack.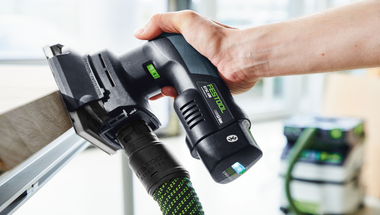 Simply communicative
The Bluetooth® Ergo battery pack communicates via Bluetooth® with the Bluetooth® module of the CLEANTEC mobile dust extractor (can be retrofitted to the CT 26/36/48 as an accessory, directly integrated into the CT MIDI ) and starts the mobile dust extractor automatically when the cordless tool is switched on. In this way, you also benefit from the complete Festool dust-free system when working with the cordless sander.
Greater freedom of movement
The compact design of the sander allows for fatigue free one handed operation by left or right handers, without unpleasant vibration. It's low weight takes the effort out of sanding vertical and overhead surfaces.
No rework
An excellent finish can only be achieved with good preparatory work. The precision and balance of Festool's 2 mm sander eliminates timely rework.
Breathe easy
Can be used with either the long-life reusable dust catcher bag made from extra durable non-woven polyester or in combination with a Festool mobile dust extractor.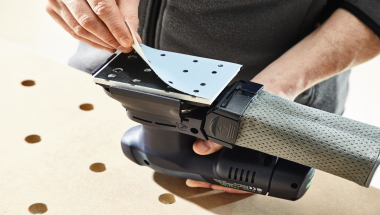 Systems get it done
Achieving the perfect surface quality depends on the smallest of details. This is why Festool supplies suitable abrasives for every application and material. For guaranteed cost-effective work with perfect results, from coarse sanding to fine sanding. Systems get it done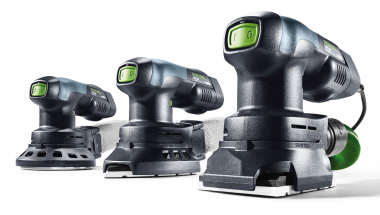 Designed for the most difficult applications
Extremely robust and durable, including the three-year SERVICE all-inclusive package as a matter of course. Register your machine within 30 days of purchase and enjoy all the advantages of SERVICE all-inclusive. Everything our SERVICE all-inclusive has to offer also applies to battery packs and chargers.

CLEANTEC Connection System
Integrated bayonet fitting as the connecting element between the extractor and the tool.

MMC Electronics
Multi Material Control power electronics with adjustable constant speed and temperature monitoring for work with all types of materials.

MPE Sanding Pad
Extremely durable sanding pads and sanding discs for long service life.

Plug-it
Removable, replaceable power cable with safety lock for fast switchover.

Protector
Protects the sanding pad and material when working close to edges.

StickFix
Quick, economical fastening system for abrasives - no adhesives, no clamping.

Turbo Dust Extraction
Turbo dust extraction ensures clean, dust free air and a clear view of the workpiece.

Vibration Stop
Patented VS balancing so that tools run smoothly during sanding, which makes working less hazardous.

Antistatic Function
Dust extractors and tools with antistatic function to prevent static buildup when working.

Lithium-ion (Li)
Fitted with high performance lithium ion battery pack.

Bluetooth Interface
Use of mobile devices via Bluetooth standard.

EC-TEC Brushless Motor
The EC-TEC brushless drive concept generates an extraordinary amount of power while consuming extremely low amounts of energy.
Tech Specs
No Load Speed (rpm)
6,000 rpm - 1000 rpm
Dust Extraction Connection Diameter (mm)
27 mm
Battery Capacity (Ah)
3.1 Ah
Sanding Pad Diameter (mm)
80 mm x 130 mm
Power Lead Type
Plug-it Lead
Power Source
Cordless or Corded
Battery Type ie. Lithium-ion
Lithium-ion