RS 300 EQ 93 x 175mm Orbital 1/3 Sheet Sander
Versatility with added value
Features
The RS 300 direct drive orbital sander has an effective combination of size, weight and sanding area, making it a multi talented sander that can be used for a wide variety of applications. It's 2.4 mm sanding stroke produces a fine finish. Festool's range of application pads allow for sanding in difficult areas, such as behind cable ducts, on both sides of louvers and into corners. The ergonomic dome grip and balanced design gives easy, tireless guidance on both vertical and overhead surfaces. When combined with a Festool Dust Extractor, work is completed quickly while maintaining a clean workspace and dust free air.

Main Applications
Light sanding of varnish, paint, wood and plastic
Sanding natural woods and veneer prior to varnishing
Light sanding of mineral materials
Sanding louvers with special extended pad
Sanding large surfaces and into corners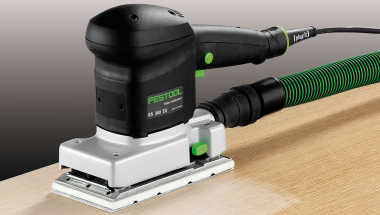 Perfect surface quality
For applications involving fine and intermediate sanding, the RS 300 produces outstanding surface quality with a perfect finish, thanks to the sanding speed pre selection and direct drive features.
Sturdy design
The robust housing and dust protected bearings of the RS 300 guarantee a long service life. Plug-it cable connection also eliminates downtime due to breakages, simply plug in a new cable and continue work.
Fatigue free work
The ergonomic design allows for easy guidance in both vertical and overhead positions. The quick and steady operation into spaces other sanders can't reach ensures work is finished quicker.
MPE Sanding pad
Festool sanding pads are made from high strength MPE plastic for a perfect finish and long service life. Abrasives are changed quickly held securely in place with a Stickfix attachment system.
A complete sanding system
Festool offers four different shapes of sanding pads for a wide range of applications. Sand into corners, around both sides of louvers and behind cable ducts with ease.
Efficient dust extraction
The RS 300 can be easily attached to a Festool Dust Extractor for almost 100% dust removal. Antistatic equipment allows you to sand paint on metal safely, while the air and workplace is kept clean.

CLEANTEC Connection System
Integrated bayonet fitting as the connecting element between the extractor and the tool.

Electronic
Speed control for adjusting to the working material.

MPE Sanding Pad
Extremely durable sanding pads and sanding discs for long service life.

Plug-it
Removable, replaceable power cable with safety lock for fast switchover.

StickFix
Quick, economical fastening system for abrasives - no adhesives, no clamping.

Vibration Stop
Patented VS balancing so that tools run smoothly during sanding, which makes working less hazardous.
Tech Specs
No Load Speed (rpm)
4,000 - 10,000 rpm
Dust Extraction Connection Diameter (mm)
27 mm
Number of Strokes (rpm)
8,000 rpm - 20,000 rpm
Sanding Pad Size (mm)
93 mm x 175 mm
Power Lead Type
Plug-it Lead
Power Consumption (W or kW)
280 W