RS 100 CQ 115 x 225mm Orbital 1/2 Sheet Sander in Systainer
Heavy duty material removal
Features
The RS 100 CQ gear driven sander with reduction gearing has been designed for heavy duty material removal. It's 5 mm sanding stroke makes it the perfect tool for sanding old, thick and stubborn coatings on large surfaces. Cleverly designed so that all switches are easily accessible with one hand, it's balanced centre of gravity and side handle mean you can work all day on vertical surfaces without tiring. The high strength MPE plastic sanding pad and magnesium sanding base guarantee a perfect finish and long service life. The plug-it cable attachment means that cable breaks no longer cause delays in work, simply plug in a new cable and continue work.

Main Applications
Sanding off varnish, paint and filler
Sanding large areas
Flush sanding of protruding edges on glued parts
Polishing metal
Sanding the surface of mineral sublayers

Greater economic efficiency
5 mm sanding stroke and reduction gearing provide an extremely high material removal rate.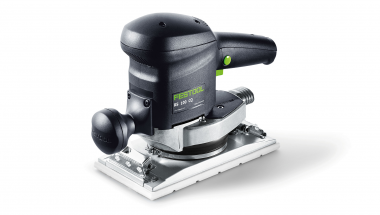 Heavy material removal
Festool gear driven sanders with reduction gearing are designed for heavy duty material removal and are therefore suitable for sanding old, thick and stubborn coatings on large surfaces.
Vibration stop
Vibration Stop for smooth running and healthy working.
Well balanced
Well balanced centre of gravity for perfect results and fatigue free work.
Dust extraction
Use with a Festool Dust Extractor for a guaranteed, spotlessly clean and healthy workplace.

CLEANTEC Connection System
Integrated bayonet fitting as the connecting element between the extractor and the tool.

MPE Sanding Pad
Extremely durable sanding pads and sanding discs for long service life.

Plug-it
Removable, replaceable power cable with safety lock for fast switchover.

Plus Systainer
Plus versions of power tools come in systainer storage containers.

StickFix
Quick, economical fastening system for abrasives - no adhesives, no clamping.

Turbo Dust Extraction
Turbo dust extraction ensures clean, dust free air and a clear view of the workpiece.

Vibration Stop
Patented VS balancing so that tools run smoothly during sanding, which makes working less hazardous.
Tech Specs
No Load Speed (rpm)
7,000 rpm
Dust Extraction Connection Diameter (mm)
27 mm
Number of Strokes (rpm)
14,000 rpm
Sanding Pad Size (mm)
115 mm x 225 mm
Power Lead Type
Plug-it Lead
Power Consumption (W or kW)
520 W