RS 100 CQ 1/2 Sheet Orbital Sander
Features
The surface professional for coarse sanding. The RUTSCHER RS 100 C orbital sander is a geared orbital sander with a large sanding area. With a 5 mm stroke and powerful gear reduction, it is designed for heavy-duty material removal. Ideal for sanding off old, thick and persistent coatings on large surfaces, the vibration stop ensures smooth running. Thanks to an external extraction system, the RS 100 C ensures clean, healthy working.
Main applications
Sanding off varnish, paint, filler over large areas
Flush sanding of protruding edges on glued parts
Sanding the surface of mineral sublayers
Polishing metal
High material removal capacity
Thanks to the gear reduction and 5 mm stroke, the RS 100 C ensures extremely efficient material removal. Ideal for sanding off old, thick and persistent coatings on large surfaces.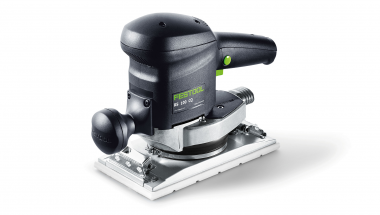 Effortless work
The vibration stop ensures smooth running, effortless work and a higher overall output.
Perfect sanding finish
A sturdy plate made from magnesium and a sanding pad made from high-strength and durable MPE plastic ensure perfect sanding.
Vibration stop
Vibration Stop for smooth running and healthy working.
Well balanced
Well balanced centre of gravity for perfect results and fatigue free work.
Clean work, unobstructed view
The external extraction system and the absolutely leak-tight hose coupling guarantee virtually dust-free work. Unobstructed view for error-free sanding and healthy working conditions.
Optimum handling
All switches on the handle are within easy reach and the auxiliary handle guarantees optimum handling, even on vertical surfaces.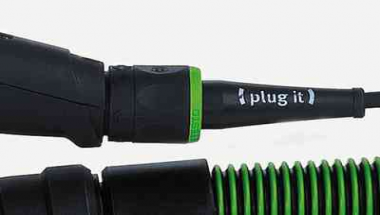 Quick tool changes
Thanks to the plug-it system, the device can be changed quickly – directly via the cable and not via the socket or extractor: One cable for all devices. And even if the cable breaks, it can be replaced quickly without any problems.

CLEANTEC Connection System
Integrated bayonet fitting as the connecting element between the extractor and the tool.

MPE Sanding Pad
Extremely durable sanding pads and sanding discs for long service life.

Plug-it
Removable, replaceable power cable with safety lock for fast switchover.

StickFix
Quick, economical fastening system for abrasives - no adhesives, no clamping.

Turbo Dust Extraction
Turbo dust extraction ensures clean, dust free air and a clear view of the workpiece.

Vibration Stop
Patented VS balancing so that tools run smoothly during sanding, which makes working less hazardous.
Tech Specs
No Load Speed (rpm)
7,000 rpm
Dust Extraction Connection Diameter (mm)
27 mm
Number of Strokes (rpm)
14,000 rpm
Sanding Pad Size (mm)
115 mm x 221 mm
Power Lead Type
Plug-it Lead
Power Consumption (W or kW)
620 W