RO 125mm ROTEX 3 n 1 Random Orbital Sander in Systainer
Handy all-rounder. 3 in 1 - Coarse , fine sanding & polishing
Features
The ROTEX RO 125. Lightens the load of your tool kit while increasing the range of applications. With just one tool for an extremely high material removal rate during coarse sanding. A super-fine image when fine sanding. And a perfect finish when polishing. When combined with the GRANAT abrasive, the ROTEX saves money thanks to the minimal use of abrasives. And with the appropriate mobile dust extractor, it even saves you the effort of brushing the work surface. And, since it is based on many ergonomic studies, the RO 125 with its compact housing and soft-grip gripping surfaces more or less incidentally fits perfectly in your hand.
Main applications
Sanding off old paint and varnish
Sanding wooden materials
Renovation work such as sanding steps
Preliminary and coarse sanding of repair compound
Hologram-free polishing
Working on vertical surfaces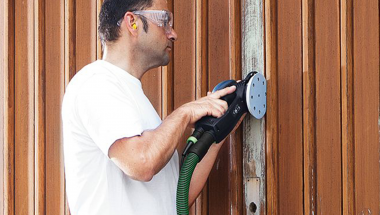 3 tools in 1
Coarse sander, fine sander and polisher in one tool. Just flip the switch to another setting and you're ready to go.
Protection for edges
Easy edge sanding with no kickback thanks to the pad protector.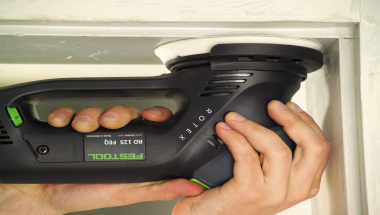 Effective sanding pad brake
The sanding pad brake prevents the sanding pad from turning upwards. It prevents the surface being scratched during sanding and eliminates the need for rework.
Tool free pad changes
Simple, fast and safe. FastFix interface for changing sanding and polishing pads quickly without using tools. This means that you can respond to changing tasks and material requirements.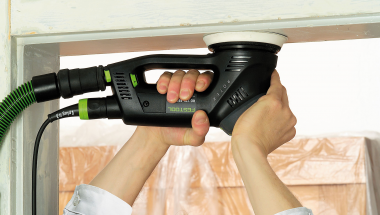 Comfortable to use
Ideal ergonomic grip positions and low weight, with smooth start up and constant speed under load.
Because clean is simply healthier
Clean workplace with the Festool mobile dust extractors. Compact and lightweight, ideal for assembly tasks and the perfect companion for the ROTEX RO 125.

Jetstream Principle
The 9 hole principle for reduced dust accumulation, less heat and less clogging. Increases service life by up to 30%.

StickFix
Quick, economical fastening system for abrasives - no adhesives, no clamping.

Antistatic Function
Dust extractors and tools with antistatic function to prevent static buildup when working.

CLEANTEC Connection System
Integrated bayonet fitting as the connecting element between the extractor and the tool.

FastFix
Makes changing accessories or consumables for routing, sawing, planing, sanding, drilling and screwdriving tools easier.

MMC Electronics
Multi Material Control power electronics with adjustable constant speed and temperature monitoring for work with all types of materials.

MPE Sanding Pad
Extremely durable sanding pads and sanding discs for long service life.

Plug-it
Removable, replaceable power cable with safety lock for fast switchover.

Plus Systainer
Plus versions of power tools come in systainer storage containers.

Protector
Protects the sanding pad and material when working close to edges.
Tech Specs
Dust Extraction Connection Diameter (mm)
27 mm
Rotary Motion Speed (rpm)
300 - 600 min⁻¹
Sanding Pad Diameter (mm)
125.00 mm
Power Lead Type
Plug-it Lead
Power Consumption (W or kW)
500 W
Orbital Motion Speed (rpm)
3000 - 6 000 min⁻¹