RAP 180 E POLLUX Rotary Polisher
The powerhouse of polishing
Features
The POLLUX 180 mm rotary polisher is particularly economical because of its large coverage capacity, ideal for those who have large polishing jobs to tackle. The MMC electronics enable perfect adaptation to different materials and surfaces by ensuring the speed stays constant. This important feature allows you to work evenly without damaging the workpiece. Uniquely ergonomic, the well-balanced machine is comfortable for use during extended periods. Festool offers a complete polishing system including a large range of polishing pads and polish, guaranteeing a perfect finish with every job.
Main Applications
Polishing large areas
Polishing paintwork
Polishing mineral materials
Ideal for horizontal surfaces

The powerhouse of polishing
Improved cooling in the lower speed range and temperature dependant overload protection ensures high load capacity.
MMC electronics
Stepless speed preselector and controlled speed monitoring ensure that you are always working at the right speed.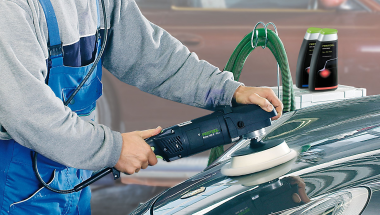 No spray off
The accelerator switch enables a slow start up and prevents the polish from spraying off.
Time saving changes
FastFix spindle stop makes polish pad changes efficient and easy. Change from sponges to polishing felt to sheepskins quickly and without tools.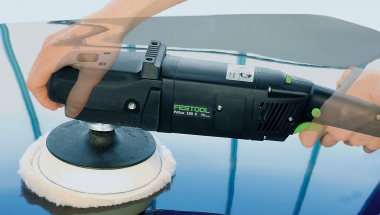 Perfectly balanced
Using the POLLUX requires minimal effort thanks to the perfect weight distribution and ergonomic dome grip.
Polishing systems
Polishers, polishing pads and polish - a complete polishing system from one manufacturer guarantees the optimal results, quickly and effortlessly.

FastFix
Makes changing accessories or consumables for routing, sawing, planing, sanding, drilling and screwdriving tools easier.

MMC Electronics
Multi Material Control power electronics with adjustable constant speed and temperature monitoring for work with all types of materials.

StickFix
Quick, economical fastening system for abrasives - no adhesives, no clamping.

PoliStick
Rapid fastening system for attaching felt, foam or sheepskin polishing pads. For greater efficiency.
Tech Specs
No Load Speed (rpm)
800 - 2,400 rpm
Power consumption
1,500 W
Polishing Pad Diameter (mm)
180 mm
Power Lead Type
Fixed Lead
Power Consumption (W or kW)
1,500 rpm
Includes
RAP 180 POLLUX Rotary Polisher
StickFix Sanding Pad D 180 mm
Accessories & Consumables