OSC VECTURO 18V Starlock Cordless Oscillator Basic
Greater precision at maximum performance.
Quantity in Pack:
Systainer
Features
Precise cutouts on the scribe mark, precisely guided plunge cuts on delicate surfaces and working with minimal dust generation, even above head height: This is what the cordless VECTURO OSC 18 stands for. Furthermore, the StarlockMax tool holder makes it possible to change tools quickly without the need for additional equipment, while the brushless EC-TEC motor with vibration isolation ensures that work can progress at an ultra-rapid pace at the same consistently high level of comfort. The interplay with the sophisticated positioning and extraction accessories makes the VECTURO an intelligent system solution for most demanding requirements on performance, comfort and precision.
Saves time: The quick-change system with StarlockMax tool holder enables tools to be changed quickly without the need for additional bluey.
Carefully designed: Optional system accessories make it possible to create precisely guided plunge cuts and saw with minimal dust generation – even when working above head height.
Comfortable: Noise and vibration damping for optimum comfort while working. The anti-vibration system ensures that the housing and motor are completely isolated.
Fast: Brushless EC-TEC motor with variable speed control enables work to progress as quickly as possible.
Mobile: Complete cordless mobility thanks to the 18V lithium-ion battery pack.

Main Applications
For creating notches, cutouts and plunge cuts in wood, laminated wood, painted wood, composite materials, GFRP, plasterboard, non-ferrous metals and plastics
Cutting all kinds of skirting board, beams and profiles to length as well as door frames and pipes
Scraper for removing tile cement, old paint, glue residues, silicones, carpeting and under-floor coatings
Suitable for cutting joints in marble, epoxy resin, trass, hard epoxy and cement
Removing window glass (window putty)
Quick-change system with StarlockMax tool holder
Set-up times are short since saw blades and accessories can be changed without the need for additional equipment. Maximum transmission of power to the saw blade.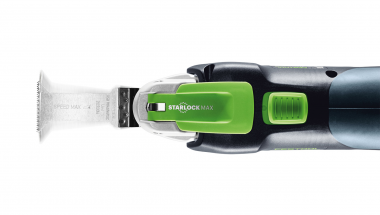 Optimum working progress
Oscillation angle of 2°/2° (left/right) for quick and precise working.
Anti-vibration system
Working is comfortable thanks to the complete isolation of motor and housing.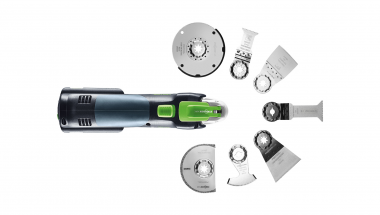 Huge versatility
Saw blades for use with wood, as well as universal and custom applications.
Dust extraction device
For sawing with minimal dust and having a clear view of the workpiece. Ideal for sawing above head height.
Depth stop
For precisely defined plunge cuts – to protect the saw blade.
Positioning aid
For precisely guided plunge cuts. With integrated depth stop and extractor connector.
Powerful in use
EC-TEC motor with variable speed control for consistently fast working progress.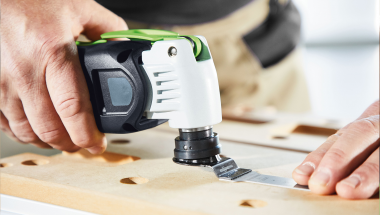 Perfect ergonomics
Sleek housing with a rubberised grip to make working comfortable.

EC-TEC Brushless Motor
The EC-TEC brushless drive concept generates an extraordinary amount of power while consuming extremely low amounts of energy.

MMC Digital Electronics
Processor controlled "Multi Material Control" power electronics provide adjustable and constant speeds as well as temperature monitoring for work on all types of material.

Electronic Overload Protection
Protects the motor with blocking tool.

Quick Acting Brake
For safe work when planing, sawing and routing.

Electronic Monitoring
Electronic monitoring of the coil temperature protects against damage to the motor.
Tech Specs
Battery Capacity (Ah)
5.2 Ah
Oscillation (rpm)
10 000 - 19 500 min⁻¹ , Angle: 2 x 2,0°
Tool Holder Type ie. StarlockMax
StarlockMax
Includes
OSC VECTURO 18V Cordless Oscillator
USB 78/32/Bi/OSC universal saw blade