OFK 500 Laminate Trimmer in Systainer
Features
There is no need to compromise when machining edges with the OFK 500 trimmer, the final visual impression will be perfect. Weighing in at only 1.4 kg, the trimmer is perfectly balanced, making it manoeuvrable and perfect for both vertical and horizontal use. The mount fixes the cutter directly on the drive shaft and the cutter does not require a collet, therefore minimising vibrations, whilst preserving the ball bearing guides and guaranteeing a long service life. Festool Dust Extractor's are easily attached, guaranteeing efficient work while maintaining a clean workspace and dust free air.
Main Applications
Rounding and chamfering square timber and boards
Rounding and chamfering door frames
Flush trimming of edge veneer and strip material

Perfect finishes
The OFK 500 produces the perfect finish when routing edge veneer or laminate. The routing depth is accurate to 1/10 mm and the hard fibre base prevents scratches to the work piece.
Lightweight
A low 1.4 kg weight and compact shape make the router very easy to handle.
A complete system
Combined with a Festool Dust Extractor, the extraction hood ensures dust is removed immediately, keeping your work space and lungs clear.
No compromise
Ideal for rounding edges when combined with a chamfer ogee cutter, diameter between 2 mm to 6 mm. The cutter is fixed directly to the drive shaft for maximum true running precision and no vibration.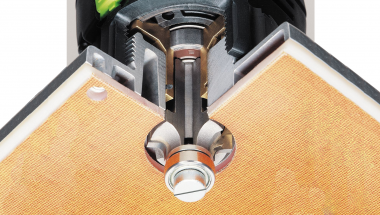 Perfect edges
The extremely small distance between the cutter and router base prevents the machine from tipping over edges, guaranteeing perfect results.

CLEANTEC Dust Extraction
Standard adapter (27/36/50 mm) for dust extraction to safeguard the operator and the environment.

FastFix
Makes changing accessories or consumables for routing, sawing, planing, sanding, drilling and screwdriving tools easier.

Plug-it
Removable, replaceable power cable with safety lock for fast switchover.

Plus Systainer
Plus versions of power tools come in systainer storage containers.
Tech Specs
No Load Speed (rpm)
28,000 rpm
Dust Extraction Connection Diameter (mm)
27 mm
No-load speed
28,000 min?¹
Routing Depth Adjustment Range (mm)
1/10 mm
Cutter Diameter (mm)
28 mm
Power Lead Type
Plug-it Lead
Power Consumption (W or kW)
450 W