OF 1400 70mm Plunge Router
An impressive all in one package
Quantity in Pack:
Systainer-4
Features
The OF 1400 router is our most versatile router, producing 1400 W of power in a machine that weighs less than 5 kg. Small enough to be extremely manoeuvrable, it's large 70 mm routing stroke ensures sufficient depth when recessing fittings or routing with templates. Tool free copying ring changes and quick, easy cutter changes allow you to adapt the router to the work piece efficiently. Accurate depth setting with zero function allows routing depth to be adjusted quickly, without the need for recalculation. Used with a dust hood and a Festool Dust Extractor, up to 99% of all chips are extracted during edge routing.

Main Applications
Rounding, chamfering, rebating and profiling edges
Routing circles and cut outs
Trenching rear panels and recessing dovetail batons
Routing mineral material
Making positioning holes for cabinet shelves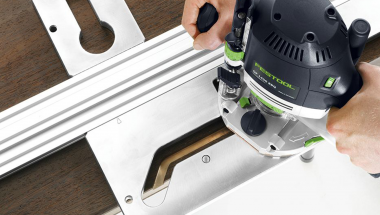 Prepared for any task
Tasks that require a considerable routing depth and involve templates are no problem thanks to the larger routing depth of 70 mm.
Extra stability
The column clamp acts on both guide columns simultaneously, making the OF 1400 torsionally rigid and ensuring perfect results.
Change in an instant
The convenient spindle stop with rocker and ratchet principle allows you to quickly change the cutter without removing the spanner.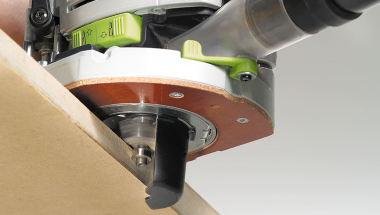 Precise depth adjustment
It takes just a few seconds and minimal effort to adjust the routing depths accurate to 1/10 mm, irrespective of the cutter used.
Adapted in seconds
Easily change the copying ring on the OF 1400 without using tools. Simply unlock, remove and slot another in its place. The ring automatically centres and the router is ready for the next job.
System benefits
Festool systems allow you to easily adapt the router to different tasks using multiple templates to produce cut outs and circles with ease and perfect accuracy.

CLEANTEC Connection System
Integrated bayonet fitting as the connecting element between the extractor and the tool.

FastFix
Makes changing accessories or consumables for routing, sawing, planing, sanding, drilling and screwdriving tools easier.

Guide System
Patented guide system for safe guidance of saws and routers.

MMC Electronics
Multi Material Control power electronics with adjustable constant speed and temperature monitoring for work with all types of materials.

Plug-it
Removable, replaceable power cable with safety lock for fast switchover.

Plus Systainer
Plus versions of power tools come in systainer storage containers.

Quick Acting Brake
For safe work when planing, sawing and routing.
Tech Specs
No Load Speed (rpm)
10,000 - 22,500 rpm
Dust Extraction Connection Diameter (mm)
27 mm / 36 mm
No-load speed
10,000 - 22,500 min?¹
Collet Diameter (mm)
6 mm - 12.7 mm
Routing Depth Adjustment Range (mm)
70 mm
Fine Height Adjustment Range (mm)
8 mm
Connection Ø d/e
27/36 mm
Cutter Diameter (mm)
63 mm
Power Lead Type
Plug-it Lead
Power Consumption (W or kW)
1,400 W