OF 1010 W Plunge Router Plus
A host of features for perfect results
Features
The OF 1010 router is the ideal compact tool for profiling, trenching, rebating and routing dovetails. It\'s lightweight and balanced, ergonomic design makes it perfect for one handed operation. MMC electronics adapt the machine to the working material and provide temperature monitoring, protecting your investment. Festool\'s routing systems easily allow you to adopt the router to a range of tasks, such as creating perfect dovetail joins, accurate adjustable cabinet holes or using the router as a bench mounted tool. Combined with a Festool Dust Extractor, the extraction hood and chip deflector guarantee clean working conditions.

Main Applications
Rounding, chamfering, rebating and profiling edges
Recessing metal fittings
Trenching rear panels and recessing dovetail batons
Routing plasterboard with the guide system
Making positioning holes for cabinet shelves

Sensationally clean
A dust extraction hood, chip deflector and Festool's range of mobile dust extractors means that routing is no longer a messy business.
One hand free
Whether used independently or on the guide rail, the OF 1010 is the perfect one handed router. Compact and lightweight, it can be guided accurately along edges, lines or curves.
Outstanding results
The large base and optional extension improves guidance around corners and edges, prevents tipping and guarantees a smooth finish.
Precise depth adjustment
It takes just a few seconds and minimal effort to adjust the routing depth, accurate to 1/10 mm, irrespective of the cutter used.
System benefits
Festool systems allow you to easily adapt the router to different tasks, whether creating perfect joins in a template or accurate cabinet holes with the LR 32 rail.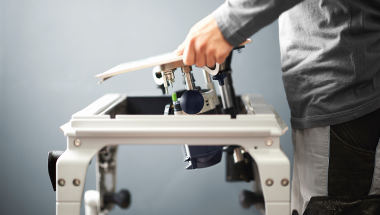 Bench mounting
Use the OF 1010 in combination with the CMS System for a powerful bench mounted router with virtually unlimited options.

CLEANTEC Dust Extraction
Standard adapter (27/36/50 mm) for dust extraction to safeguard the operator and the environment.

FastFix
Makes changing accessories or consumables for routing, sawing, planing, sanding, drilling and screwdriving tools easier.

Guide System
Patented guide system for safe guidance of saws and routers.

MMC Electronics
Multi Material Control power electronics with adjustable constant speed and temperature monitoring for work with all types of materials.

Plug-it
Removable, replaceable power cable with safety lock for fast switchover.

Plus Systainer
Plus versions of power tools come in systainer storage containers.
Tech Specs
No Load Speed (rpm)
10,000 rpm - 24,000 rpm
Dust Extraction Connection Diameter (mm)
27 mm
No-load speed
10,000 - 24,000 min?¹
Collet Diameter (mm)
6 mm - 8 mm
Routing Depth Adjustment Range (mm)
55 mm
Fine Height Adjustment Range (mm)
8 mm
Cutter Diameter (mm)
50 mm
Power Lead Type
Plug-it Lead
Power Consumption (W or kW)
1,010 W