OF 1010 55mm Plunge Router in Systainer
Small tool for delicate tasks.
Features
Extremely versatile. Extremely precise. Extremely easy to handle: Whether guided freely or on the guide rail, the OF 1010 router is the ideal one-handed device. Thanks to its size and low weight it can be guided along edges, lines or curves with just one hand. For routing profiles, grooves, rebates and dovetail joints – the OF 1010 impresses with a wide variety of technical solutions.
Main applications
Rounding, chamfering, rebating and profiling edges
Recessing metal fittings
Grooving rear panels, recessing dovetail batons or routing plasterboard with the guide system (edging technology)
Producing rows of holes in cabinets using the hole series system LR 32
Fashioning wooden joints with the VS 600
Precise fine adjustment
The OF 1010 has a precise depth adjuster. The routing depth can be finely adjusted accurate to a tenth of a millimetre quickly using the dial.
Central column clamping
Lower and clamp without having to take your hands off the machine. It could not be easier.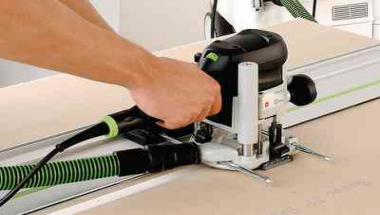 One handle for everything
The ergonomic handle is a significant advantage of the OF 1010. Switching on, plunge cutting, routing, lifting out – everything can be done with one hand.
Clean and healthy work
For an unobstructed view of the workpiece and a healthy working environment, the OF 1010 has an integrated extractor connector. Simply connect a mobile dust extractor from Festool for clean work.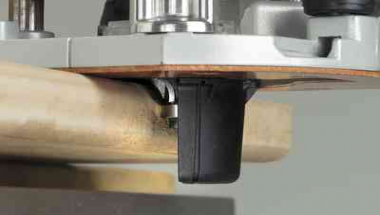 99% dust extraction
The unique chip deflector ensures efficient dust extraction and guarantees maximum suction power when routing edges in combination with the dust extraction attachment and a Festool mobile dust extractor.
Without tipping over
The OF 1010 is fitted with a support to prevent the router from tipping over when used with the guide rail. As a result, it stays in the groove and produces the desired result.
For copying
Workpieces can be copied quickly using the angle arm. The arm runs along the profile of the original workpiece and this profile is then transferred to the workpiece being processed using the router.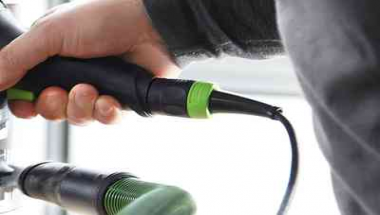 For quick device changeover
Thanks to the plug-it system, the device can be changed quickly – directly via the cable and not via the socket or extractor: One cable for all devices. And even if the cable breaks, it can be replaced quickly without any problems.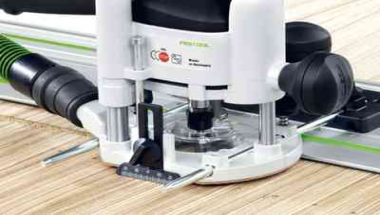 Quick-acting brake
The quick stop brake ensures optimal safety when routing and the OF 1010 comes to a stop in seconds.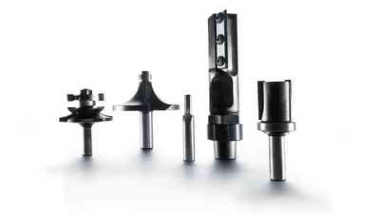 Systems get it done
For perfect results, Festool offers you a wide range of cutters in HS and HW quality.

Antistatic Function
Dust extractors and tools with antistatic function to prevent static buildup when working.

CLEANTEC Dust Extraction
Standard adapter (27/36/50 mm) for dust extraction to safeguard the operator and the environment.

Guide System
Patented guide system for safe guidance of saws and routers.

MMC Electronics
Multi Material Control power electronics with adjustable constant speed and temperature monitoring for work with all types of materials.

FastFix
Makes changing accessories or consumables for routing, sawing, planing, sanding, drilling and screwdriving tools easier.

Plug-it
Removable, replaceable power cable with safety lock for fast switchover.

Quick Acting Brake
For safe work when planing, sawing and routing.

Plus Systainer
Plus versions of power tools come in systainer storage containers.
Tech Specs
No Load Speed (rpm)
10 000 - 24 000 min⁻¹
Dust Extraction Connection Diameter (mm)
27 mm
Collet Diameter (mm)
6 - 8 mm
Routing Depth Adjustment Range (mm)
8.00 mm
Power Consumption (W or kW)
1010 W
Includes
OF 1010 55mm Plunge Router
Open ended spanner, WAF 19