MX 1000 E Stirrer with HS 3 Left Rod
General purpose single speed stirrer
Features
The MX 1000 is a single speed stirrer which is compact, strong and reliable in application. Ideal for mixing paint, levelling compounds, filler and tile adhesive, up to 40 litres. Designed for the harsh demands of mixing applications with extreme dirt exposure and hard impacts, features such as the durable drive, switch cover and hard wearing rubber edges make these stirrers extremely robust. The patented ErgoFix height adjustment system allows you to adjust the stirrer height up to 80 mm and mix materials in a naturally upright position. A powerful 1020W motor generates constant rotary force and withstands periods of long continuous use.

Main Applications
HS 2 Rod - mix viscous material less than 40 kg
HS 3 Rod - mix compact and heavy material less than 40 kg
WS 2 Rod - mix paint greater than 40 kg
ProJet Uni Rod - mix fluid material less than 40 kg
Use with stirring rods up to 120 mm diameter
High performance drive
The combination of a high performance motor and high torque gearbox guarantees a long service life, even in tough continuous applications.
When size matters
The patented ErgoFix height adjustment system allows up to 80 mm height adjustment on the stirrer. Adapt the tool to suit an upright working position, eliminating back pain caused by bending over.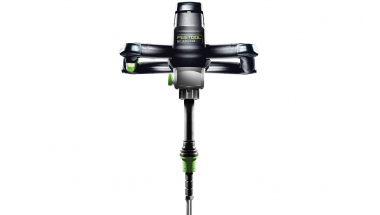 Slip proof shock absorber
Hard wearing rubber edges provide effective protection against damage and prevent the tool from slipping when set down on slopping surfaces.
Measured power
Using the speed trigger and separate speed control, the right speed can be set for every application to achieve perfect mixing results and to prevent material spray off when you pull the trigger.
All round protection
Festool stirrers features a protective cap with labyrinth guide to prevent penetration of spray water and dirt in the housing - significantly extending the service life of the machine.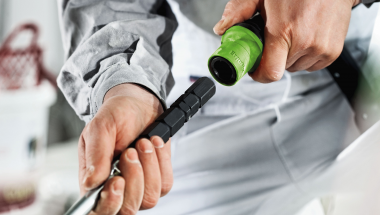 Lightning speed changes
The FastFix quick change system allows you to remove the stirring rod without tools, changing rods more quickly when processing different materials without the annoying search for spanners.

ErgoFix Adapter
For holding a M14 stirring rod.

FastFix
Makes changing accessories or consumables for routing, sawing, planing, sanding, drilling and screwdriving tools easier.

MMC Digital Electronics
Processor controlled "Multi Material Control" power electronics provide adjustable and constant speeds as well as temperature monitoring for work on all types of material.
Tech Specs
Tool Holder ie. Centrotec
M14 / ErgoFix
No Load Speed 1st Gear (rpm)
360 rpm - 630 rpm
Collar Diameter (mm)
57 mm
Power Lead Type
Fixed Lead
Power Consumption (W or kW)
1,020 W
Paddle Diameter (mm)
120 mm
Mixing Volume (litres)
Up to 40 litres
Mixing Direction (left or right)
Left