KA 65 Conturo Edge Bander Plus
Features
The Conturo makes it easy to apply edges to bends, radises, convex and concave forms. Even mitre edges can be finished in perfect quality using the bench unit. Suitable for machining all types of wood, plastic or melamine edging with a height of 18 mm to 65 mm and edge thickness of 0.5 mm to 3.0 mm (depending on material), work with the Conturo is quick, easy and clean. Packed in a systainer, the Conturo is also extremely mobile and together with the system accessories, it provides the perfect edge quality wherever you take it.

Main Applications
Affixing wooden, plastic or laminated edging
Suitable for mobile use, for rapidly reworking edges on site
Gluing inclined edges and angles from 0 - 47 degrees
Suitable for stationary use and small batches, straight edges, free form elements
Attach edging to simple rectangular components or more complex free forms
Safe thermal unit
The thermally isolated gluing unit ensures short heating times (approximately 8 minutes) and maintains low surface temperatures – no risk of burns.
Free temperature control
Two pre programmed temperatures (others can be programmed as required) allow the use of different glues.
Clean gluing system
The cartridge glue system ensures efficient and clean work as well as fast colour changes. Glue is melted as required meaning no overheating, discolouring or loss of quality.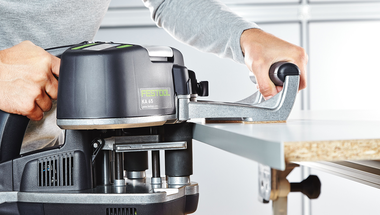 Perfect ergonomics
The contact roller gives better transfer of force along handles. Fixed edge guide transmits force to top of work piece edge regardless of the edging height, with direct view of the contact roller.
Practical display
Display provides information on the glue quantity and reserves, set point, actual temperature and operating information. It indicates how many metres of edging can be processed with current setting.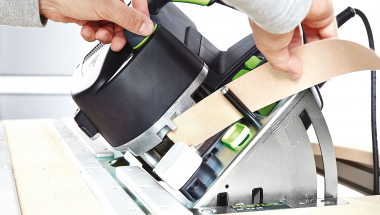 Stationary application
Affixing edging to mitred surfaces (0 to 47 degrees) and small pieces is also possible, simply by inserting an adapter plate in the workbench with a perforated top.

FastFix
Makes changing accessories or consumables for routing, sawing, planing, sanding, drilling and screwdriving tools easier.

Plus Systainer
Plus versions of power tools come in systainer storage containers.
Tech Specs
Edge Height (mm)
18 mm - 65 mm
Edge Thickness (mm)
0.5 mm - 3 mm
Inner Radius (mm)
> 50 mm
Heating Time (minutes)
8 minutes
Power Lead Type
Fixed Lead
Power Consumption (W or kW)
1,200 W
Melting Temperature (°)
100° - 210°
Feed Rate (metres per minute)
2 metres every 4 minutes
Includes
KA 65 Conturo Edge Bander