HL 850 82mm Planer in Systainer
Features
The HL 850 is designed to meet all your planing needs, removing the burden of time consuming rework. A patented, single bearing planing head allows you to work flush with the work piece to unlimited rebate depths. Control elements are easily accessible without changing your hand position and it's ergonomic design guarantees comfort. The 90 degree V groove in the planer foot makes chamfering boards and beams a breeze and the spiral blade ensures a smooth planing pattern. The planer can be used in a bench unit mount and a Festool Dust Extractor can be attached either side for efficient work while maintaining a clean workspace.

Main Applications
Trimming work
Assembly work
Planing door rebates
Planing window rebates
Planing beams, planks and broad surfaces
Texturing surfaces
Plane right to the edge
Retract the side guard and you can plane right up to the edge. The lever is easily reached without changing hand position.
Accurate chamfering
When chamfering boards and beams, the 90 degree V groove in the planer foot makes it feel like the planer is gliding along a rail and prevents it from slipping or running off course.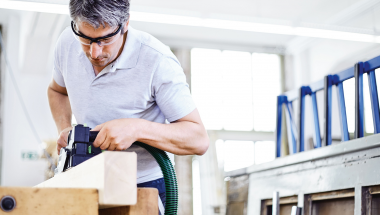 Easy operation
The sophisticated ergonomics and quality engineering of the HL 850 are evident as soon as you pick it up. All control elements are easy to reach without changing your hand position.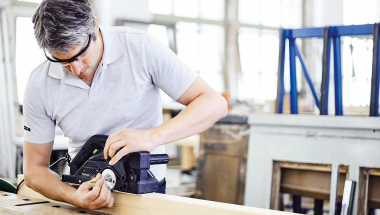 Easy blade changes
The spiral blade with drawing cut produces a smooth planing pattern and no chatter marks. The planing head is easy to replace and there are three rustic heads available for rustic wooden effects.
Stationery planing
The bench unit allows you to draw the work piece over the planer comfortably, making rebating and trimming work easier. The angle stop allows you to chamfer any angle between 90 and 45 degrees.
Efficient dust extraction
The HL 850 can be easily attached to a Festool Dust Extractor from the left or right side for almost 100% dust removal. This allows you to work with dust extraction in any position, without hindrance.

CLEANTEC Connection System
Integrated bayonet fitting as the connecting element between the extractor and the tool.

Electronic
Speed control for adjusting to the working material.

FastFix
Makes changing accessories or consumables for routing, sawing, planing, sanding, drilling and screwdriving tools easier.

Plus Systainer
Plus versions of power tools come in systainer storage containers.

Quick Acting Brake
For safe work when planing, sawing and routing.

Spir-O-Cut
The one flute planing head offers decisive advantages. No need to adjust the cutting circle diameter after blade replacement and drawing cut for high surface quality.
Tech Specs
Rotational Speed (rpm)
11,000 rpm
Planing Depth (mm)
0 mm - 3.5 mm
Rebate Depth (mm)
unlimited
Dust Extraction Connection Diameter (mm)
36 mm
Power Lead Type
Fixed Lead
Power Consumption (W or kW)
850 W