HKC 55 160 mm Cordless Circular Saw Plus Li SCA 8
Uniquely versatile 18V all rounder
HKC 55 EB-Plus Li 5.2Ah SCA8
Features
From cutting rafters and beams to ripping and trimming, cutting melamine shelving, plumb cuts and birds mouth applications, this will be your go to saw. The combination of 18V battery and a brushless EC-TEC motor ensures impressive cutting performance. It will even do intricate plunge cuts for sink cut outs or vents. Achieve quick and easy cross cuts with the unique FSK cross cutting guide rail (available in 3 lengths 250 mm, 420 mm, 670 mm). To enable an unrestricted view of the saw blade, the protective pendulum hood can be moved back from the front handle to release the saw blade. It is a versatile all rounder.
Main Applications
Rip cut and cross cut in materials up to 55 mm thick
Ideal for mobile use on work sites and roofs
Sawing lining boards and shuttering to size
Sizing chipboard and shelving
Cross cutting rafters and beams
Splinter free trimming cuts
Plumb cuts on angled roofs and pitched pergolas
Cutting birds mouth
Cutting eaves
Plunge cut applications
Efficient brushless motor
A 5.2 Ah battery pack and efficient brushless EC-TEC motor with a speed of 4,500 rpm ensures high power output. Combined with trimming rail attachments ensures mobile independence on the job site.
Easy setting of depth
Simply push the lever together and use the easy to read scale. Set the desired cutting depth, let go and you're all set. This also enables plunge cuts to be made to the preset cutting depth.
The Guide Wedge
The guide wedge enables unhindered, tension free and therefore safe sawing. As it is integrated in the pendulum hood, it can be controlled flexibly using the pendulum hood remote control.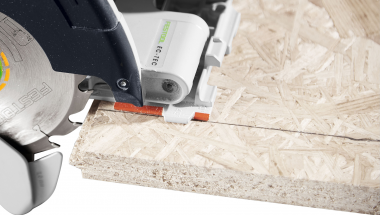 Inspection window
The open design and the interior inspection window provide a good view of the scribe mark and saw blade. The integrated cut indicator further increases the precision level.
Tool free blade changes
FastFix rapid change system for easy saw blade changes.
Quick release fastener
The HKC 55 can be connected and disconnected from the cross cutting guide rail in no time at all, depending on whether you want to saw with a guide or freehand.

AIRSTREAM Battery
AIRSTREAM technology cools batteries for faster use and significantly increased charging capacity.

CLEANTEC Connection System
Integrated bayonet fitting as the connecting element between the extractor and the tool.

Cross Cut Rails
Cross cutting system which joins power tool and cross cut rail firmly together for repeat cuts at precise angles.

EC-TEC Brushless Motor
The EC-TEC brushless drive concept generates an extraordinary amount of power while consuming extremely low amounts of energy.

Electronic
Speed control for adjusting to the working material.

FastFix
Makes changing accessories or consumables for routing, sawing, planing, sanding, drilling and screwdriving tools easier.

Guide System
Patented guide system for safe guidance of saws and routers.

Lithium-ion (Li)
Fitted with high performance lithium ion battery pack.

Plus Systainer
Plus versions of power tools come in systainer storage containers.

Quick Acting Brake
For safe work when planing, sawing and routing.
Tech Specs
Cutting Depth at 90° (mm)
55 mm
Idle engine speed
4500 min?¹
Saw blade diameter
160 mm
Cutting depth 0°/90°
0-55 mm
Cutting depth at 45°/50°
42/38 mm
Connection Ø d/e
27/36 mm
Battery capacity
4.2Ah, 5.2Ah
Weight with battery
4.1 kg
Independent extraction
yes
Dust extraction connection diameter
27/36 mm
No Load Speed (rpm)
4,500 rpm
Saw Blade Diameter (mm)
160 mm
Cutting Depth at 45° (mm)
42 mm
Dust Extraction Connection Diameter (mm)
27 mm / 36 mm
Bevel Angle Range (°)
0° - 50°
Battery Capacity (Ah)
5.2 Ah
Battery Type ie. Lithium-ion
Lithium-ion
Cutting Depth at 50° (mm)
38 mm
Includes
HKC 55 Cordless Circular Saw