HK 85 230 mm Circular Saw Plus
A powerful all rounder with 85 mm cuts
Features
The HK 85 has a 2300 W motor providing constant power when sawing. It is ideal for trimming and cutting solid beams, frames and form work that require a large cutting depth up to 85 mm. If you need to create lengthwise and crosswise grooves, such as routings for eaves, joists and false ceilings then consider pairing your HK 85 with the optional groove cutting accessory to transform your circular saw to a groove cutter. Powerful yet versatile - connect your HK 85 to an FSK Guide Rail for an easy to use cross cutting system which delivers precise cuts at exact angles.

Main Applications
Rip cut and cross cut in materials up to 85 mm thick
Cross cutting rafters and beams
Sawing engineered wood
Cutting frames and form work
Groove cutting

Easy depth adjustment
Simply push the lever and set the desired cutting depth using the clearly visible and easy to read scale, then release and you're done.
Groove Cutting
All it takes is a few simple steps to install the optional adjustable groove conversion accessory and the HK 85 transforms to a powerful groove cutter.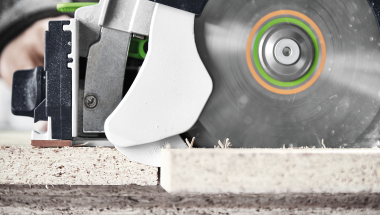 Viewing window and cutting indicator
The viewing window provides a good view of the scribe mark and saw blade. The continuous cutting indicator also increases precision.
420 mm cross cuts
Ideal for use with scaffolding or roof work. Fast, guided, precise angle cuts for frame pieces, slats, boards and wall panels.
Tool free blade changes
FastFix rapid change system for easy saw blade changes.

CLEANTEC Connection System
Integrated bayonet fitting as the connecting element between the extractor and the tool.

Cross Cut Rails
Cross cutting system which joins power tool and cross cut rail firmly together for repeat cuts at precise angles.

FastFix
Makes changing accessories or consumables for routing, sawing, planing, sanding, drilling and screwdriving tools easier.

Guide System
Patented guide system for safe guidance of saws and routers.

MMC Electronics
Multi Material Control power electronics with adjustable constant speed and temperature monitoring for work with all types of materials.

Plus Systainer
Plus versions of power tools come in systainer storage containers.

Quick Acting Brake
For safe work when planing, sawing and routing.
Tech Specs
Cutting Depth at 90° (mm)
85 mm
Idle engine speed
1500 - 3300 rpm
Saw blade diameter
230 mm
Cutting depth 0°/90°
0-85 mm
Cutting depth at 45°/50°
62/47 mm
Connection Ø d/e
27/36 mm
No Load Speed (rpm)
1,500 rpm - 3,300 rpm
Saw Blade Diameter (mm)
230 mm
Cutting Depth at 45° (mm)
62 mm
Dust Extraction Connection Diameter (mm)
27 mm / 36 mm
Bevel Angle Range (°)
0° - 60°
Power Lead Type
Fixed Lead
Power Consumption (W or kW)
2,300 W
Cutting Depth at 60° (mm)
47 mm
Includes
Standard Carbide Saw Blade W24