FS Guide Rail Adjustable Angle Stop
Available in February 2022, subject to supplier availability and shipping.
Features
The angle stop for the guide rail – for precise and fast angled cuts. Angles of -60° to +60° can be set with repeat accuracy and high precision. The angle stop, therefore, offers a wide range of applications and full flexibility. Thanks to the quick-clamping lever, the angle stop is attached to the guide rail in an instant.
High-quality design for making precise angled cuts from -60° to +60°
Quick and easy to connect to the guide rail using the quick-clamping lever – and completely self-aligning
Long contact edge and viewing window for easy aligning with the workpiece edge
Additional positioning bolts – for a safe storage area, including for materials with a rounded workpiece edge
Intuitive adjustment – all of the controls can be operated from above without tools
can be extended with FS-WA-VL guide extensionUsage
Main applications
For panel cutting at different angles from -60° to +60°
Precise panel cutting in any position
High-quality design for making precise angled cuts from -60° to +60° in combination with a guide rail and portable circular saw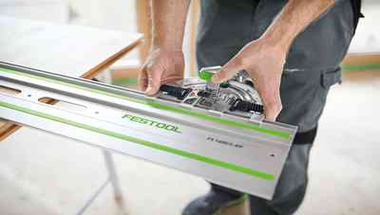 Easy to attach
Insert into the guide rail and move the quick-clamping lever. For accurately repeated angled cuts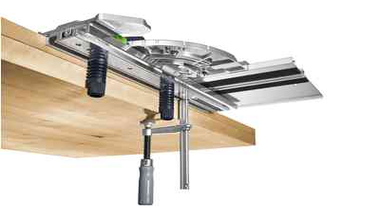 Secure grip
The option to attach fastening clamps and positioning bolts allows users to securely attach workpieces to the machine and to have a stable system.​
Easy locking
Specified locking positions can be used to set the most commonly used angles easily and with precision.​
Guide extension for cuts made to size
Adding another guide extension with a scale and an adjustable stop allows users to make cuts to size with repeat accuracy.​
Includes
FS Guide Rail Adjustable Angle Stop