FS 90 Degree Guide Rail Square
The right angle, every time.
Features
90°. No more. No less. The aluminium stop milled from a single piece guarantees precise and reproducible perpendicular cuts without any readjustments. Thanks to the quick-change system, the angle stop is attached to the guide rail in an instant and, in combination with the portable circular saw, saw table and work bench, turns into the mobile panel saw.
CNC-milled aluminium stop made from a single piece for precise and reproducible 90° cuts
Easy to attach and completely self-aligning
Long contact edge for easy aligning with all workpiece edges
Grooves on the front and rear enable the guide rail clamps to be attached
For precise sheet cutting when using a guide rail and portable circular saw
For precise and reproducible 90° cutting of sheet materials without any readjustments
Completely self-aligning and precise thanks to milled aluminium stop
Easily and quickly connect with the guide rail using the quick-clamping lever
Perpendicular cutting and milling grooves in conjunction with the guide rail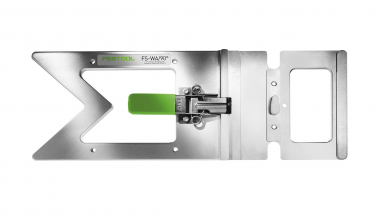 Precise 90° cuts
CNC-milled aluminium stop for maximum precision for 90° cuts. No readjustments required.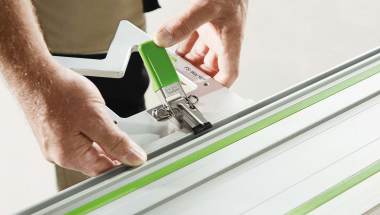 Easy to attach
Insert into the guide rail and move the quick clamping lever.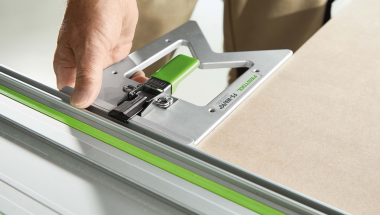 Easy alignment
Long contact surface for easy aligning with all edges.
Secure grip
It is possible to attach fastening clamps to securely attach the workpiece.
Precise cutting of sheets
When using a guide rail or portable circular saw.
Includes
90 Degree Guide Rail Square
Accessories & Consumables