ETS EC 125mm Brushless Random Orbital 3mm Sander in Systainer
Compact on the outside, clever on the inside
Features
The ETS EC 125/3 is a favourite in the compact class for fine sanding and extra fine sanding. As a one handed sander with superb power to weight ratio, it produces excellent surface quality with a 3 mm sanding stroke. It includes brushless EC technology and a carbide tipped pad brake for a long service life, as well as stepless speed preselection and constant speed under load. The softgrip surface enables you to sand horizontal, vertical or overhead without exerting excess force. Used optimally with Festool Multi-Jetstream pads and abrasives and a Festool Dust Extractor, the perfect, dust-free finish is guaranteed with every job.

Main Applications
Pre sanding of flat and curved surfaces
Fine and extra fine sanding
Sanding of wood, plastic and painted surfaces

Compact and lightweight
A compact and low weight design of just 1.2 kg creates optimal ergonomic working conditions without compromising durability.
Perfect surface quality
The sanding brake prevents the abrasive from scratching the work piece on initial contact, saving costly re work.
Outstanding performance
Designed to fit in your hand, the lightweight machine features a Softgrip material to considerably improve your grip and increase comfort.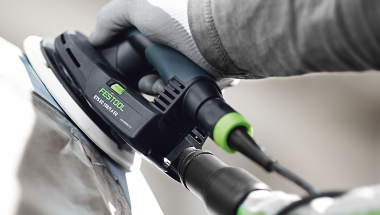 Dry sanding
Dry sanding is standard with Festool systems in the automotive trade. The benefits include low risk of error, economical time and cost savings and consistently high surface quality.
Multi-Jetstream principle
Festool offers a complete system including sanding pads and abrasives. The Multi-Jetstream principle ensures greater dust removal, cooler pad temperatures and longer abrasive life.
Breathe easy
The integrated dust port allows easy connection to a Festool Dust Extractor. This maintains a clear view of your work piece and keeps the working area, and your lungs, clear of unhealthy wood dusts.

EC-TEC Brushless Motor
The EC-TEC drive concept generates an extraordinary amount of power while consuming extremely low amounts of energy.

MMC Electronics
Multi Material Control power electronics with adjustable constant speed and temperature monitoring for work with all types of materials.

MULTI-JETSTREAM Principle
Sanding system with integral dust conveying concept. With the patented MULTI-JETSTREAM principle.

Plug-it
Removable, replaceable power cable with safety lock for fast switchover.

Plus Systainer
Plus versions of power tools come in systainer storage containers.

StickFix
Quick, economical fastening system for abrasives - no adhesives, no clamping.

Vibration Stop
Patented VS balancing so that tools run smoothly during sanding, which makes working less hazardous.
Tech Specs
Dust Extraction Connection Diameter (mm)
27 mm
Sanding Pad Diameter (mm)
125 mm
Power Lead Type
Plug-it Lead
Power Consumption (W or kW)
400 W
Orbital Motion Speed (rpm)
6,000 rpm - 10,000 rpm
Includes
ETS EC 125/3 EQ Random Orbital Sander