ETSC 125 18V 125mm Cordless Random Orbital 2mm Sander Bluetooth 3.1Ah Set in Systainer
The ergonomic cordless one-handed sander.
Features
The new RTSC 400, DTSC 400, ETSC 125 cordless compact sanders ensure unparalleled mobility and ease of movement when working. The powerful 18 V Bluetooth® Ergo battery pack with 3.1 Ah guarantees power similar to that of a mains-powered tool. And it is the key to an extremely compact design with balanced weight distribution and perfect ergonomics with a weight of just 1.4 kg. The integral dust extraction system, in combination with the long-life dust collection bag, enables the machine to be used flexibly – effortlessly even overhead, vertically or in hard-to-reach areas. The Bluetooth® battery pack ensures simple working in combination with a Bluetooth®-compatible Festool mobile dust extractor and ensures that the extractor starts automatically in AUTO mode when the cordless sander is started up. The battery pack can be replaced with the plug it-mains adapter to achieve an unlimited running time – ideal for stationary applications and also in combination with a Festool mobile dust extractor.

Main Applications
Cable-free sanding where there is no power connection or where this is difficult to access (e.g. outdoors, on scaffolding)
Mobile working when the power cable and suction hose are extremely disruptive to the application (e.g. vertical surfaces, overheard sanding, rendering edges, etc.)
Ideal for vertical surfaces or overhead work
One-handed sander for small and narrow surfaces
Sanding off paint and varnish on window frames, door frames and eaves
With plug it-mains adapter as a sanding machine with an unlimited running time during continuous electrical operation – ideal for use indoors in combination with a Festool mobile dust extractor
Convenient working with dust extraction – Bluetooth® battery pack automatically starts Bluetooth®-compatible mobile dust extractor in AUTO mode
Maximum mobility
Work effortlessly overhead, vertically or in hard-to-reach areas – without power cable and hose, with perfect ergonomics and a weight of just 1.4 kg (including battery), perfectly balanced weight distribution and low height.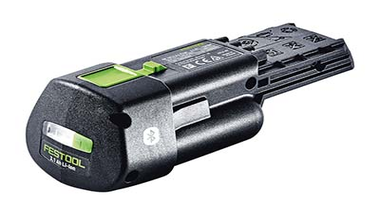 Powerful and durable
The powerful 18 V Bluetooth® Ergo battery pack in combination with the brushless EC-TEC motor ensures constant sanding and power similar to that of a mains-powered tool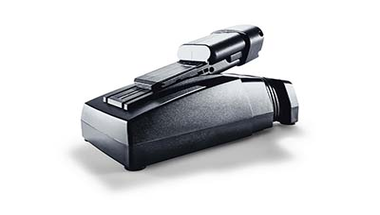 Work without interruptions
Thanks to the Bluetooth® battery packs with 3.1 Ah capacity and a longer running time than charge time.
A dust-free, healthier working environment
With the long-life dust collection bag (can be emptied and reused) made from extra-durable nonwoven polyester or in combination with a Festool mobile dust extractor.
Reliable extraction with the new CLEANTEC connecting system
The integrated bayonet fitting connects the connecting sleeve on to the dust bag or the suction hose securely and quickly to the extractor connector on the power tool, and it can be detached just as quickly. You decide when, not chance.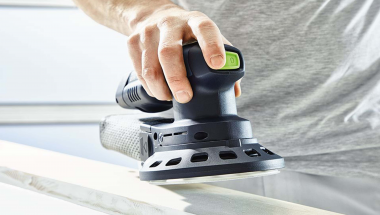 A perfect fit for your hand
Comfortable handle thanks to its soft grip and ergonomically perfect switch position for both left- and right-handed operators.
Less reworking
PROTECTOR for smooth sanding along window surfaces, frames and panelling.
Systems get it done
Achieving the perfect surface quality depends on the smallest of details. This is why Festool supplies suitable abrasives for every application and material. For guaranteed cost-effective work with perfect results, from coarse sanding to fine sanding.

CLEANTEC Connection System
Integrated bayonet fitting as the connecting element between the extractor and the tool.

Electronic
Speed control for adjusting to the working material.

MPE Sanding Pad
Extremely durable sanding pads and sanding discs for long service life.

MULTI-JETSTREAM Principle
Sanding system with integral dust conveying concept. With the patented MULTI-JETSTREAM principle.

Plug-it
Removable, replaceable power cable with safety lock for fast switchover.

Protector
Protects the sanding pad and material when working close to edges.

StickFix
Quick, economical fastening system for abrasives - no adhesives, no clamping.

Turbo Dust Extraction
Turbo dust extraction ensures clean, dust free air and a clear view of the workpiece.

Vibration Stop
Patented VS balancing so that tools run smoothly during sanding, which makes working less hazardous.

Bluetooth Interface
Use of mobile devices via Bluetooth standard.
Tech Specs
No Load Speed (rpm)
6,000 rpm - 10,000 rpm
Dust Extraction Connection Diameter (mm)
27 mm
Battery Capacity (Ah)
3.1 Ah
Sanding Pad Diameter (mm)
125 mm
Power Lead Type
Plug-it Lead
Power Source
Cordless or Corded
Battery Type ie. Lithium-ion
Lithium-ion
Includes
ETSC 125 Cordless Random Orbital Sander