ETS 150/5 E Random Orbital Sander
Make light work of sanding
Features
The ETS 150/5 Random Orbital Sander is a favourite for intermediate to fine sanding applications. It\'s 5 mm sanding stroke produces an excellent surface finish and the lightweight, compact size makes work tireless and comfortable. A Softgrip surface enables you to sand horizontal, vertical or overhead without exerting excess force, while intelligent MMC electronics ensure constant speed under load and protect against overheating. When used with Festool Multi-Jetstream 2 pads, abrasives and a Festool Dust Extractor the perfect, dust free finish is guaranteed with every job.

Main Applications
Intermediate varnish sanding
Sanding across the wood grain
Light sanding of paint, varnish and wood
Fine sanding of mineral sublayers
Sanding primed surfaces
Optimum durability
The reinforced housing wall significantly improves machine protection, especially around the head of the sander. The tool is very lightweight and the shock resistant plastic is extremely robust.
Perfect surface quality
MMC electronics control smooth start up and ensures speed remains constant under load. The sanding brake prevents the abrasive from scratching the work piece on initial contact, saving costly re work.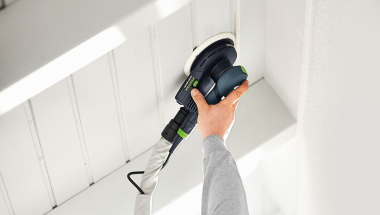 Outstanding performance
Designed to fit in your hand, the lightweight machine features a Softgrip material. This improves your grip on the machine and increases comfort, resulting in fatigue free work.
Dry automotive sanding
Dry sanding is standard when using Festool systems in the automotive trade. The benefits include low risk of error, economical time and cost savings and consistently high surface quality.
Multi-Jetstream principle
Festool offers a complete system including sanding pads and abrasives. The Multi-Jetstream principle ensures greater dust removal, cooler pad temperatures, longer abrasive life.

MPE Sanding Pad
Extremely durable sanding pads and sanding discs for long service life.

MULTI-JETSTREAM 2 principle
Sanding system with integral dust conveying concept. With the patented MULTI-JETSTREAM 2 principle.

Turbo Dust Extraction
Turbo dust extraction ensures clean, dust free air and a clear view of the workpiece.

Vibration Stop
Patented VS balancing so that tools run smoothly during sanding, which makes working less hazardous.
Tech Specs
Dust Extraction Connection Diameter (mm)
27 mm
Sanding Pad Diameter (mm)
150 mm
Power Lead Type
Fixed Lead
Power Consumption (W or kW)
310 W
Orbital Motion Speed (rpm)
4,000 rpm - 10,000 rpm
Includes
ETS 150/5 Random Orbital Sander
1 x Granat Abrasive Disc P80