ETS 150mm Random Orbital 3mm Sander
Perfect finishing sander.
Features
The ETS 150/3 eccentric sander is the favourite when it comes to fine and extra-fine sanding. As the lightweight in its class, its 3 mm sanding stroke achieves an excellent surface quality while providing high power thanks to the MMC electronics. Whether it's horizontal, vertical or overhead, the combination of soft grip and ergonomic rod handle means that the ETS 150/3 can adapt to all hand movements. Extremely smooth running, infinite speed adjustment, even during sanding, and the safe sanding pad brake make the ETS ideal for perfect surfaces.

Main Applications
Finish sanding on paintwork, wood and plastic
Pre-sanding for polishing
Final sanding of mineral materials
Sanding high-gloss surfaces ready for polishing
Sanding wooden surfaces ready for waxing
Final sanding of fillers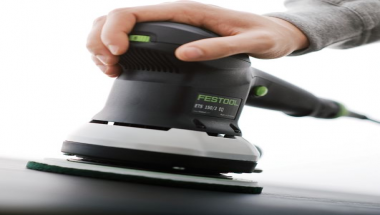 Built for manual operation
Lightweight, compact, dome grip with SoftGrip and ergonomic rod handle guarantee effortless work whether in one- or two-hand operation.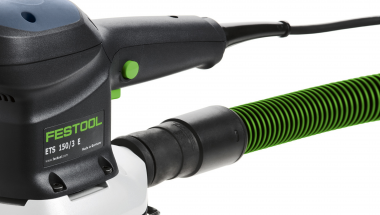 Clean work, unobstructed view
The powerful dust extraction and the absolutely leak-tight hose coupling guarantee virtually dust-free work. Unobstructed view for error-free sanding and optimum health protection.
Lower abrasive consumption, lower costs
The patented MULTI-JETSTREAM sanding system is a unique system that operates with intake air and exhaust air to generate an air flow that actively transports the sanding dust to the nearest extraction channel. The result: Almost 100% dust extraction, a constant removal rate, excellent surface quality and a considerably longer service life of the fastener and abrasive.
Constant speed
The MMC electronics control the smooth start-up, adapt the speed to the material and keep it constant. This also guarantees an optimum sanding result.
Long service life
Dust-proof high-performance ball bearing absorbs even the hardest of impacts and is considerably more durable than conventional ball bearings.
Effortless work
The vibration stop ensures smooth running, effortless work and a higher overall output.

MMC Electronics
Multi Material Control power electronics with adjustable constant speed and temperature monitoring for work with all types of materials.

MPE Sanding Pad
Extremely durable sanding pads and sanding discs for long service life.

MULTI-JETSTREAM 2 principle
Sanding system with integral dust conveying concept. With the patented MULTI-JETSTREAM 2 principle.

StickFix
Quick, economical fastening system for abrasives - no adhesives, no clamping.

Turbo Dust Extraction
Turbo dust extraction ensures clean, dust free air and a clear view of the workpiece.

Vibration Stop
Patented VS balancing so that tools run smoothly during sanding, which makes working less hazardous.
Tech Specs
Dust Extraction Connection Diameter (mm)
27 mm
Sanding Pad Diameter (mm)
150 mm
Power Lead Type
Fixed Lead
Power Consumption (W or kW)
310 W
Orbital Motion Speed (rpm)
4,000 rpm - 10,000 rpm
Includes
ETS 150/3 Random Orbital Sander
1 x Granat Abrasive Disc P80