DSC 230mm Diamond Cutting System in Systainer
Cuts powerfully through mineral construction materials up to 63 mm thick.
Features
Clean separation with reliable dust extraction – for a healthy working environment and an unobstructed view of the workpiece. The key advantage here is the plunge-cut function. This enables the tool to be inserted safely and accurately into the material and cuts to be made at a fixed depth of up to 27 mm. In combination with the Festool guide rail and consumables, this is the optimum solution for efficient, clean and precise work.
Test report: EVA Respirable Crystalline Silica and Total Respirable Dust Exposures Report
Main Applications
Quick and dust-free cutting of mineral materials
Sections for doors/windows, expansion joints in floor areas, grooves for pipes
Dust-free cutting
Whether you're working indoors or outdoors, the DSC-AG 250 guarantees dust-free work at all times. Thanks to the efficient dust extraction device on the machine and the corresponding cleaning technology in the extractor, e.g. CTM 36 AC HD, the environment remains almost completely dust-free.
Maximum protection
The DSC-AG 250 can be used on the Festool guide rail and therefore opens up new applications. This makes cutting materials of any size simple and precise.
Safe guidance
The guide table with easy-running rollers ensures accurate guidance along the workpiece.
Simply insert
The integrated plunge-cut function makes it possible to start cutting anywhere in the material. Simply insert at the point where the material is damaged and cut to the fixed depth.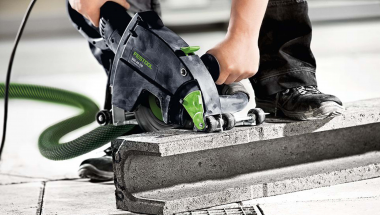 Unobstructed view
The viewing window provides a clear view of the scribe mark and interface. This makes it possible to make perfect cut-outs and produce a result that can be checked immediately.
Comfortable and safe work
Thanks to rotary handle with optimum switch position.

CLEANTEC Dust Extraction
Standard adapter (27/36/50 mm) for dust extraction to safeguard the operator and the environment.

Guide System
Patented guide system for safe guidance of saws and routers.

Plus Systainer
Plus versions of power tools come in systainer storage containers.
Tech Specs
Tool Weight (kg)
3.2 kg hood / 8.9 kg system
Front Clearance (mm)
85 mm
Side Clearance (mm)
35 mm
No Load Speed (rpm)
6,500 rpm
Dust Extraction Connection Diameter (mm)
36 mm / 27 mm
Power Lead Type
Fixed Lead
Power Consumption (W or kW)
2,600 W
Disc Diameter (mm)
230 mm
Cutting Depth with Guide Rail (mm)
59 mm
Accessories & Consumables
Show All Accessories & Consumables