DF 500 DOMINO Joining Machine Plus
Joining precision with ease
Features
The DOMINO DF 500 joining machine was created to make clean, accurate joining easy for anyone. Whether mitring or working in the horizontal or vertical position, its easy to use controls allow you to create perfect repetitive joints with little marking out and effort. A patented routing principle eliminates kickback and exact positioning is easy with the large viewing window. Preset height adjustments, depth stop and retractable stop pins allow for quick and precise positioning of the domino\'s on a range of materials. Efficient dust extraction is provided when used with a Festool Dust Extractor.

Main Applications
Furniture manufacture
Shop fitting/interior fitting
Window construction
Exhibition stand construction
Panel, frame and rack joints

Business as usual
Bevel, mitre and vertical joints are easy to create with a host of alignment guides and easy viewing.
Smart stops
Five different depth stops and preset height adjustment to quickly centre the mortise in a range of material thicknesses.
Easy alignment
Only one fixing mortise is required to position a workpiece perfectly. Easily increase the mortise width for clearance on both sides, making alignment easier.
Patented
The patented routing principle simultaneously rotates and oscillates, guaranteeing no kickback.
Variable angles
Quickly set the routing angle anywhere between 0 - 90 degrees or select from a range of catch positions.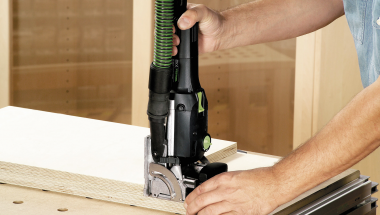 Healthier joining
Efficient dust extraction ensures dust is quickly removed from the source. Keep your workpiece and lungs clear.

CLEANTEC Connection System
Integrated bayonet fitting as the connecting element between the extractor and the tool.

Plug-it
Removable, replaceable power cable with safety lock for fast switchover.

Plus Systainer
Plus versions of power tools come in systainer storage containers.
Tech Specs
No Load Speed (rpm)
25,500 rpm
Dust Extraction Connection Diameter (mm)
27 mm
Depth stop for routing depth
12 mm, 15 mm, 20 mm, 25 mm, 28 mm
Cutter Diameter (mm)
4 mm, 5 mm, 6 mm, 8 mm, 10 mm
Routing height adjuster with scale
5 mm - 30 mm
Mitre Routing (°)
0° - 90°
Power Lead Type
Plug-it Lead
Power Consumption (W or kW)
420 W
Includes
DF 500 DOMINO Joining Machine
Vertical Stop (support bracket)
Accessories & Consumables