CTM MIDI-I 15l M Class Dust Extractor
Small extractor, big on performance
Features
Low weight, compact dimensions and a host of innovative details – the new CTM MIDI compact extractor impresses in all aspects and now even extracts dust from dust class M. It has intuitive touch operation, a smooth suction hose and a level storage area for tools and consumables. Manual dedusting and being able to replace the main filter from the outside ensure long-lasting work that protects your health. Includes integrated Bluetooth® technology – the mobile dust extractor is automatically started by the Bluetooth® battery pack or by the remote control. Also has an internal hose holder, SYSTAINER T-LOC connection and practical cord holder for tidiness and speed. All this together conveniently ensures clean air during service and installation work.
Main applications
For hazardous wood dust and mineral dust from dust class M with limit values ≥ 0.1 mg/m³
On-site extraction for electric power tools for minor or brief sanding, routing, sawing and drilling work
Ideal for mobile use in service and installation work and for final cleaning
Suitable for both wet and dry extraction (special wet filter required for wet extraction)
Working With Hazardous Dust
Test report: EVA Respirable Crystalline Silica and Total Respirable Dust Exposures Report
Test report: ESP Airborne Occupational Exposure Report
Important Information Regarding Circuit Breaker Electrical Standard
Festool dust extractors are fitted with a circuit breaker for safety when a connected load of 1200 watts is exceeded.
Some tools that draw higher wattage can trigger the circuit breaker and if initiated requires the reset button above the socket to be pushed in and reset.
When requiring to use larger wattage tools with dust extraction it is recommended the tool is operated off a separate outlet and a Bluetooth system can then be used to switch the dust extractor on and off as required.
When using tools it is recommended you always use the correct consumable for best results as even lower wattage tools can trip the circuit breaker if the system isn't matched to the application. (e.g.: saw blade not matched to material)
Integrated Bluetooth® technology
Automatically switch on your CT MIDI extractor via remote control or the Bluetooth® battery pack. No retrofitting required. See how here.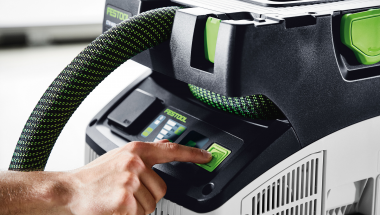 Touch operation
The innovative and intuitive touch control panel makes it extremely simple to operate, even when wearing gloves or in a dirty environment. The extractor is set to automatic mode as soon as it is switched on.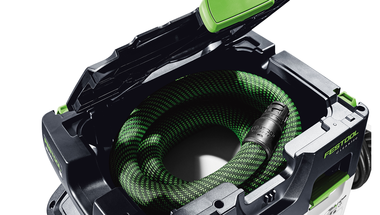 Everything has its place
The large internal hose holder and external cable wrap makes storing the smooth suction hose and cable safe and clean for transportation.
Manual cleaning
Manual dedusting of the main filter and filter bag means the suction power can be restored once the filter or filter bag is inserted for a significant increase in filling capacity.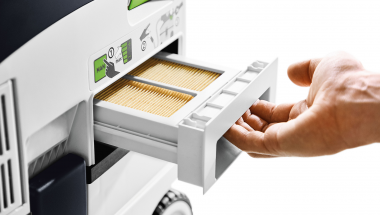 Filter replacement from outside
Filters are now replaced from the outside of the dust extractor. Quick, easy and tool free.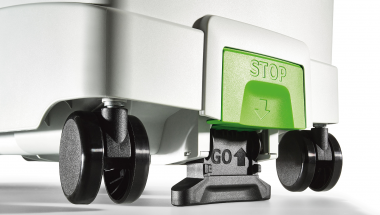 Transport Safe
The integrated locking brake means that the dust extractor is secured against rolling away during work or transport.
Automatic suction hose detection
Automatically adjusts to the correct suction hose diameter.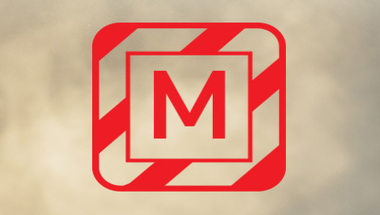 For dusts in class M
The extractor is approved for hazardous dusts in dust class M with limit values ≥0.1 mg/m³, making it suitable for extracting wood dusts and mineral dusts.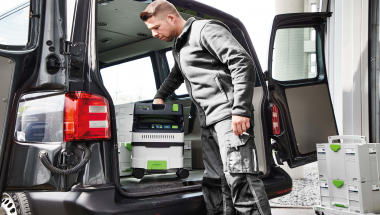 Easy handling
The compact, ergonomic design and low weight make the extractor particularly easy to transport.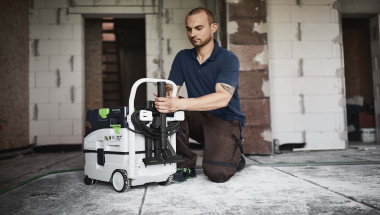 Telescopic handle
For even better mobility on the construction site – The sophisticated design allows cleaning accessories to be stored and can be easily lowered when not in use (handle available as an accessory).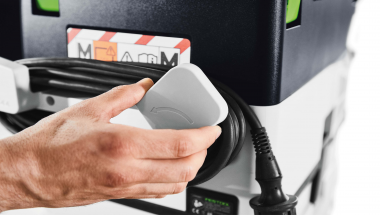 More tidiness
Thanks to externally fitted cord holder with folding mechanism.
Full usage of space
The sophisticated container geometry and space-saving flat filter ensure maximum utilisation of the 15 l container volume.

Antistatic Function
Dust extractors and tools with antistatic function to prevent static buildup when working.

Electronic
Speed control for adjusting to the working material.

CLEANTEC Connection System
Integrated bayonet fitting as the connecting element between the extractor and the tool.

Bluetooth Interface
Use of mobile devices via Bluetooth standard.

Smooth Sleeve Hose
With a smooth exterior which allows it to slide over surfaces perfectly
Tech Specs
Maximum Airflow (litres per minute)
3,700 l/min
Maximum Vacuum (Pa)
24,000 Pa
Filter Surface Area (cm2)
3,369 cm2
Container/Filter Bag Capacity (litres)
15 L / 12.5 L
Power Consumption (W or kW)
Maximum 1,200 W
Auto Clean Function (Yes/No)
No
Dust Approval Rating
Dust Class M - medium risk dust such as mineral and wood dust
Mains Cable
Rubber Insulated
Mains Cable Length (m)
7.5 m
Dimensions - L x W x H (mm)
470 x 320 x 495 mm
Includes
CTM MIDI-I 15l M Class Dust Extractor