CTM 36l M Class Autoclean PLANEX Dust Extractor
The dust extractor for the PLANEX long-reach
For PLANEX and PLANEX Easy
Features
Ideal for drywall construction.
The higher the material removal capacity of a sander, the more powerful the corresponding mobile dust extractor needs to be. The powerful CLEANTEC CTM 36 AC PLANEX with a 36 l container volume is designed specifically for the extreme material removal capacity of the PLANEX long-reach sander. With tool holder, non-buckling hose and standard ComfortClean sealing slide for even more efficient filter cleaning. With its large container geometry, the CTM 36 AC PLANEX provides maximum volume. At the same time it is extremely mobile, thanks to swivelling castor wheels and large rear wheels.
The perfect mobile dust extractor for all PLANEX long-reach sanders
AUTOCLEAN automatic main filter cleaning system for consistently high suction power
Antistatic function prevents static developing during work
Attachment of Systainers via SYS-Dock
Hose garage and cable windup for greater tidiness and safety
Economical because of the optimal use of the available volume with a SELFCLEAN filter bag in the container
container/filter bag capacity 36/34 l
with AUTOCLEAN function
approved for dust class M
special extractor for all PLANEX long-reach sanders
for mineral dust
Test report: EVA Respirable Crystalline Silica and Total Respirable Dust Exposures Report
Test report: ESP Airborne Occupational Exposure Report
Festool dust extractors are fitted with a circuit breaker for safety when a connected load of 1200 watts is exceeded.
Some tools that draw higher wattage can trigger the circuit breaker and if initiated requires the reset button above the socket to be pushed in and reset.
When requiring to use larger wattage tools with dust extraction it is recommended the tool is operated off a separate outlet and a Bluetooth system can then be used to switch the dust extractor on and off as required.
When using tools it is recommended you always use the correct consumable for best results as even lower wattage tools can trip the circuit breaker if the system isn't matched to the application. (e.g.: saw blade not matched to material)
Main applications
For dust with limit values > 0.1 mg/m³
Integral automatic electronic switch-on/shut-off for extraction from electric power tools
Suitable for both wet and dry extraction
Ideal for sanding filler compound with the PLANEX long-reach sander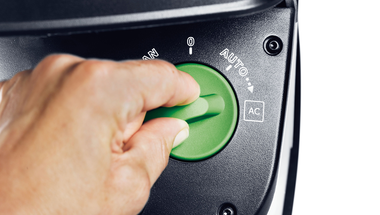 Automatic cleaning
The AutoClean automatic filter cleaning system keeps the filter clear and suction power constant until completely full. The cleaning system can also be manually activated.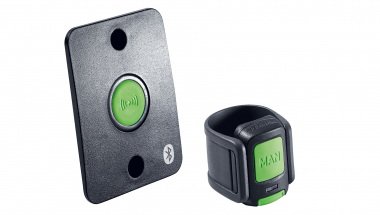 Bluetooth technology
Can be retrofitted with the Bluetooth module to allow the extractor to be controlled via the remote control on the suction hose and started automatically when a Festool cordless tool with Bluetooth battery pack is switched on.
High suction power
Super strong and yet super small, the high power turbine provides considerable higher suction power but takes up very little room.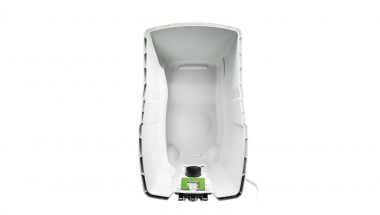 Maximum utilisation
The flat filter design allows the filter bag to unfold easily and expand to use almost 100% of its capacity. Hold more dust in a more compact extractor.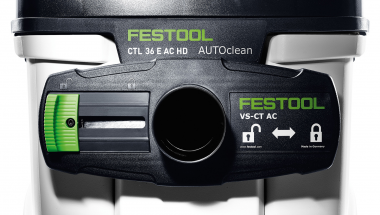 Well thought out
The comfort clean closing slide creates an extreme vacuum in the container for even more thorough cleaning of the main filter.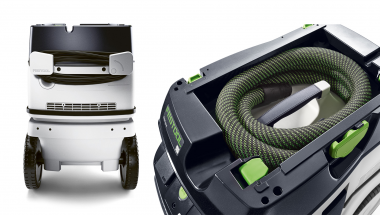 Safe storage
The hose garage and cable wrap keep the suction hose and mains cable tidily stored. Cable wrap includes a smart folding mechanism to help you wind up the cord quickly.

Antistatic Function
Dust extractors and tools with antistatic function to prevent static buildup when working.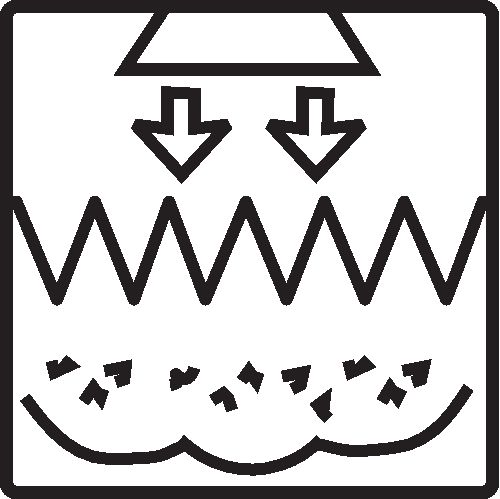 AUTOCLEAN
AUTOCLEAN automatic main filter cleaning system with infinitely adjustable cleaning intervals.

CLEANTEC Connection System
Integrated bayonet fitting as the connecting element between the extractor and the tool.

Electronic
Speed control for adjusting to the working material.
Tech Specs
Maximum Airflow (litres per minute)
3,900 l/min
Maximum Vacuum (Pa)
24,000 Pa
Filter Surface Area (cm2)
6,318 cm2
Container/Filter Bag Capacity (litres)
36 L / 34 L
Power Consumption (W or kW)
Maximum 1200 W
Auto Clean Function (Yes/No)
Yes
Dust Approval Rating
Dust Class M - medium risk dust such as mineral and wood dust
Mains Cable
Rubber Insulated
Mains Cable Length (m)
7.5 m
Dimensions - L x W x H (mm)
630 x 365 x 596 mm
Includes
CTM 36l M Class Autoclean PLANEX Dust Extractor