CT 15l HEPA Class Dust Extractor
The specialist for cleaning work
Features
Ideal for cleaning on worksites, in workshops and in offices: with a container capacity of 15l, the CLEANTEC CT 15 vacuums up dust, dirt and water. Its design allows the full container capacity to be used almost completely – for long periods of work without having to change the filter bag.
Comes standard with the HEPA filter for enhanced filtration
Perfect for mobile work with its compact dimensions, low weight and sturdy wheels
Touch control for intuitive dust extractor operation
The main filter can be changed easily from outside
Cleaning accessories come included as standard and are stowed on the dust extractor
Container/ filter bag capacity 15 l
Flat storage area – ideal for temporary storage of work materials
Main applications
For cleaning offices, workshops, garages, motor vehicles and construction sites
Absorbing water
Festool dust extractors are fitted with a circuit breaker for safety when a connected load of 1200 watts is exceeded.
Some tools that draw higher wattage can trigger the circuit breaker and if initiated requires the dust extractor to be turned off and then on again to reset.
When using tools it is recommended you always use the correct consumable for best results as even lower wattage tools can trip the circuit breaker if the system isn't matched to the application. (e.g.: saw blade not matched to material)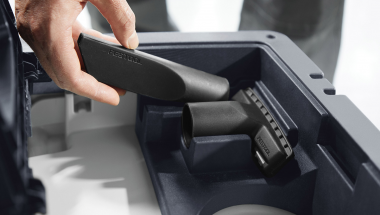 Cleaning accessories included
With the CT 15, the crevice and upholstery nozzle cleaning accessories come included in the standard package and can be stowed in the dust extractor.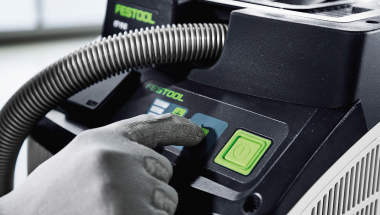 Touch control
Intuitive touch control panel instead of knobs and dials – perfectly easy to operate, even with gloves and in dirty environments.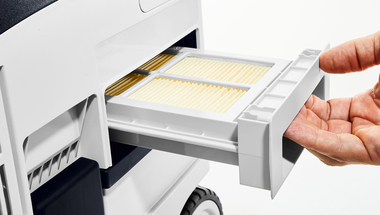 Filter replacement from outside
Quick, easy and tool-free

CLEANTEC Connection System
Integrated bayonet fitting as the connecting element between the extractor and the tool.

Electronic
Speed control for adjusting to the working material.
Tech Specs
Maximum Airflow (litres per minute)
3700.00 l/min
Maximum Vacuum (Pa)
24000.00 Pa
Filter Surface Area (cm2)
3369.00 cm²
Container/Filter Bag Capacity (litres)
15/12.5 l
Power Consumption (W or kW)
350 – 1 200 W
Mains Cable
Rubber Insulated
Mains Cable Length (m)
5.00 m
Dimensions - L x W x H (mm)
470 x 320 x 430 mm
Includes
CT 15l HEPA Class Dust Extractor
Non Antistatic Suction Hose 27/32 x 3.5 m